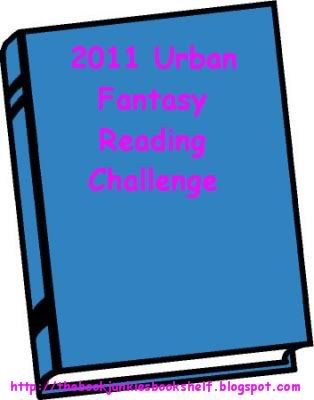 Jamie at The Book Junkie's Bookshelf is also hosting the
2011 Urban Fantasy Reading Challenge
. I jumped at this one, I think the amount of books I'm planning to read is where the challenge part comes in, since this is a genre I already love reading.
1. Create a post for the challenge using the image above and link back to this post.
--Non-Bloggers: You are welcome to join too. Post your list of books in the comment section of the wrap-up post.

2. Sign up with the Mr. Linky.
--Link to your challenge post when you sign up please.

3. There are 4 levels:
-- Newbie ~ read 5 Urban Fantasy titles


-- Intermediate ~ read 15 Urban Fantasy titles (This is the one I'm singing up for)


-- Moderate ~ read 25 Urban Fantasy titles
-- Professional ~ read 40 Urban Fantasy titles

**An "up the anty" Challenge**
-- Rockstar ~ Read 60 Urban Fantasy titles
-- AWESOME SAUCE ~ Read 80 Urban Fantasy Titles

The goal of this challenge is to try your chosen level of Urban Fantasy novels between January 1, 2011 and December 31, 2011. Books read before January 1, 2011 do NOT count towards the challenge.

4. Audio, eBooks, paper all count. Re-reads are ok but try to keep them to a minimum. Cross overs from other challenges are ok.

5. There is no need to create your list now. Please feel free to use your challenge post to keep track of your titles if you so desire.
As before, here's the list of books I hope to read for this challenge:
Silver Borne by Patricia Briggs
Chosen by P.C. Cast and Kristin Cast
Untamed by P.C. Cast and Kristin Cast
Hunted by P.C. Cast and Kristin Cast
Catching Fire by Suzanne Collins
Mockingjay by Suzanne Collins
This Side of the Grave by Jeaniene Frost
First Drop of Crimson by Jeaniene Frost
The Naming by Alison Croggon
Wicked Lovely by Melissa Marr
Dead Reckoning by Charlaine Harris
City of Ashes by Cassandra Clare
The Lightning Thief by Rick Riordan
Pretties by Scott Westerfeld
Tenth Grade Bleeds by Heather Brewer