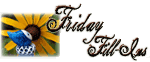 1. Give me a kitchen aid mixer and I'll give you cupcakes

2. Whenever I have a free moment I can usually be found reading

3. I wish I wasn't worried that I would lose my job

4. Wow – I can't remember! It must have been awhile….. was the last thing I ate that was utterly delicious.

5. To live in this world you need to be kind to others.

6. Other than this one, (I can't remember!) is the last blog I commented on. (hard question!!!)

7. And as for the weekend, tonight I'm looking forward to eating BBQ, tomorrow my plans include putting another coat of paint on the French doors and painting the library and Sunday, I want to make some cards and bookmarks but will probably be painting!