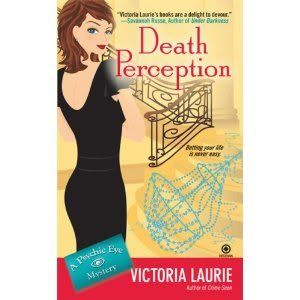 Copyright: 2008
Publisher: Signet
Genre: Mystery
Pages: 336
Challenges: Cozy Mystery
Author's
Website
Simple Description:
This adventure takes Abby and Dutch to Vegas. Dutch gets a call that his cousin, a man he grew up with and considers a brother, has been kidnapped. Chase was working security and was in charge of protecting a very rich man in Vegas. Both have gone missing. Dutch asks Abby to fly to Vegas with him and use her 6th sense to help locate Chase. Things go from bad to worse when Dutch's rental car is found - and it's totaled. A strange girl is found holding his cell phone but when she wakes up she has amnesia. Dutch is missing. Then Dutch's FBI boss comes in town to help find Dutch but Abby knows he is trying to steer people in the opposite direction. Dutch was investigating his boss for murder after all. With the help of her sister, Cat, and her friend, Candace, Abby tries to find Dutch before he dies. This is not as easy as it might seem, since the FBI is after Abby.
Now what you really want to know....my thoughts:
Absolutely loved this one! I think this is my favorite Abby Cooper story so far, and that's saying something since this is one of my favorite series. Candace is a character full of surprises. The story itself is full of surprises and goofy. Vegas was the perfect location for this one, so many off the wall fun stuff happened that would have been out of place anywhere but in Vegas.
I would give this one a 4.5 out of 5 stars.
This book is part of my collection and was either bought or given to me.