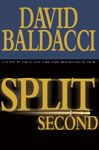 #1 in the King and Maxwell series
Genre: Mystery
Pages: 404
Challenges: Thriller and Suspense
Author's Website
My rating: 4.5/5 stars
Simple Description:
King is a lawyer in a small town. He likes his life, his 2nd life. He was a secret service agent but the politician he was guarding was killed on his watch, that ended his career, his first life. Things once again change for him when he finds a dead body in his law office. To make matters interesting, the dead body belonged to one of his employees who just happens to be part of the witness protection program. Soon he has government agencies all over his town and his life. It soon appears that somebody is out to get him though, because his gun is the murder weapon.
Maxwell is a secret service agent. The politician she was guarding was kidnapped on her watch and her career is about to go down the drain. Her gun and badge are taken away from her while the matter is being investigated. She becomes interested in King and when she reviews footage of what ended his career, she thinks something is fishy and the whole story wasn't told. She decides to talk to King, in person.
In the meantime, another person who was with the secrete service but is now on her own, contacts King and asks him to help hr find the kidnapped Politician. She's being paid to find him and offers King part of the loot when the guy is found.
Soon all three of them are involved in tracking down the kidnappers and well as the murders. They think it's the same person (or persons) doing all of it. Their lives are endangered too.
Now what you really want to know....my thoughts:
This is the first book I have read by this author. While I know a lot of people like his work and recommend it to me, I just never really wanted to read his novels. A couple of friends and I finally decided to buddy read one and selected this one. I'm so glad I finally read this! I absolutely loved this book! It was fast paced, it kept my interest, and it kept me guessing. There were several things going on in this book and it was fun to see how they might tie in with each other. I loved how we get info from the bad guys perspective, yet we never know who the bad guys are because their names are never used. It was fun to keep guessing and find out who they were right along with King and Maxwell. I have to admit, I didn't' figure out how it was till I was told.
I hear that this isn't one of the author's better works, so I'm really excited to read more by him since I loved this one so much.
This book is part of my collection and was either bought or given to me.