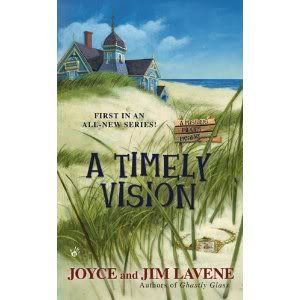 #1 in the Missing Pieces Mystery series
Copyright: 2010
Publisher: Berkley Prime Crime
Genre: Mystery
Pages: 292
Challenges: Cozy Mystery Challenge
Author's
Website
Simple Description:
Duck, North Carolina is a small town. Sure there are a lot of tourists during the summer months, even even then the crime rate is pretty darn low. However the residents get a wake-up call when one of the elderly woman who call the town home is missing, and then found dead.
Dae ODonnell is the major of Duck. She also happens to find the dead body, something she hopes never happens again. Dae has a special gift, she can find things. If you are thinking of something you lost, when she touches your hand she can see where it's at so you can find it. This is the first time she ever found a dead body though.
The murdered woman's sister, Mildred, is the prime suspect and is taken into custody. Dae knows Mildred didn't do it and she sets out to prove this. She has the help of a new town resident, Kevin, who used to work for the FBI.
Now what you really want to know....my thoughts:
I think this is a good start to the series. I can't say I absolutely loved the book, but I did like it. I did like the characters that I believe the authors want you to like, and some annoyed me, but again I think the authors wanted that. There's definitely a bit of mystery to Kevin, stuff that happened when he was an FBI agent that I'm sure will come up in future stories. Ok, let me back track for a minute, I do have to admit that while I liked Dae..something about her did annoy me a bit, but I can't put my finger on what exactly it was.
I do recommend this one to cozy mystery fans. It was an enjoyable first novel and there is growth for the characters and the town, I'm sure I'll be reading the next in the series when it comes out.
Thanks to Megan with Berkley Prime Crime for providing this book in hopes I would review it.