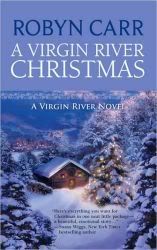 # 4 Virgin River series
Copyright: 2008
Publisher: Mira
Genre: fiction
Pages: 320
Author's
Website
My rating: 3/5
Simple Description:
Marcie lost her husband Bobbie a year ago. He was in the marines and was injured while serving. Ian Buchanian saved Bobbie, but Bobbie was paralyzed and never regained consciousness. Bobbie survived another 3 years in the company of his wife and family and friends before passing away. Now Marcie is determined to find Ian and reconnect with him. Ian and Bobbie were best friends. Soon after tragedy struck Bobby, Ian quit the marines and disappeared into the woods around Virgin River. Nobody has seen him in 4 years.
Marci does find Ian. He wants her to go home but she's sick and he takes care of her. The longer she stays with him, the more they both realize they need each other in order to heal.
Now what you really want to know....my thoughts:
It's rare for me to read a Christmas book when it's not December, however I'm buddying reading this series with two good friends and there was no way we could wait till December to continue this series. I am glad that while this takes place around the holidays, and it did have a Christmas spirit to it, it wasn't enough to bother me that I read it in June.
While I did like this one, I didn't like it as much as the other books I've read in the series. I'm not sure if this is because the two main characters were both new to the readers whereas in the other books in the series (that I've read so far) each of the main characters had already been introduced in other books, so we were familiar with them already. Either way, this has still been one of my favorite series this year and I'll be continuing with it and recommending it to others.
This book is part of my collection and was either bought or given to me.