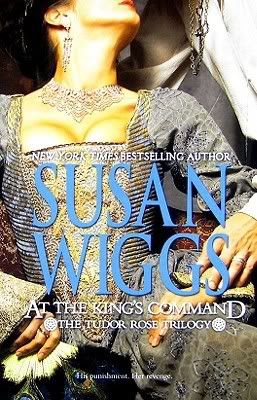 (note: I was out of town for 4 days and was lucky enough to finish 3 books! Since I didn't have pc access while on vacation, I wasn't able to write my reviews. Therefore I'm going to date each review with the day I finished it instead of leaving it with the default date - the day the review is written)
#1 The Tudor Rose Trilogy
Copyright: 2009
Publisher: Mira
Genre: historical romance (per the book cover)
Pages: 375
Challenges: year of the historical
Author's
Website
My rating: 3/5
Simple Description:
King Henry VIII decides to punish Stephen de Lacey by forcing his hand in marriage. He is married to a gypsy woman who tries to steal his horse. Stephen doesn't want to marry again but agrees to marry this woman because the King would have her hanged if he didn't. Juliana Romanov is the gypsy woman. She is the only surviving member of the Romanov family. When she escaped on the night her family was killed she joined a band of gypsy's and has been with them ever since. She hopes that either the King or de Lacey will believe her when she tells them about her past and help her avenge her family. Stephen and Juliana agree that the marriage is a mistake and home to get an annulment as soon as Stephen feels the King will allow it. Stephen stays away from Juliana as much as he can. However, the two do begin to have feelings for each other. It's not easy though. Stephen is bitter and hiding a secret. Juliana is seen as a wild gypsy woman.
Now what you really want to know....my thoughts:
I'm torn about this book. It's not the normal type of book I read. I don't mind some romance in a book, but I rarely read a romance book. I don't think I've read a historical romance ever...at least that I remember. While I can't rave about this book, something about it keeps me from giving it a lower rating. I actually thought about it for a couple days after I read it, so it really stuck with me. The writing flowed well, it moved well. I think it's just not the normal type of story for me and so I just wasn't sure of it the whole time. I also feel that if it's labeled as romance, there should be better sex scenes. I'm just saying. :)
However, because I ended up liking it and the book stayed with me for a couple of days, I will give the other two books in the trilogy a try.
This book is part of my collection and was either bought or given to me.