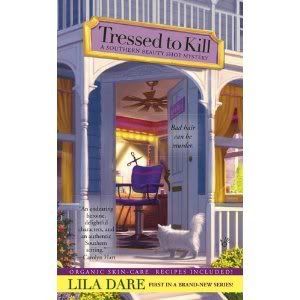 #1 Southern Beauty Shop Mystery Series
Copyright: 2010
Publisher: Berkley Prime Crime
Genre: Mystery
Pages: 292
Challenges: Cozy Mystery
Author's
Website
My rating: 3.5/5
Simple Description:
Grace Terhune is a stylist at her mother's beauty Salon (run out of her Mom's house). Things normally go along smoothly, that is until Constance DuBois shows up. She needs her hair colored before the town meeting that day. Her blond highlights come out orange (her fault and not the stylest) she threatens to have the shop shut down. Grace and her Mom find Constance, dead, after the town meeting that day. All fingers point to the Terhune's because everyone in the small town of St. Elizabeth's knows Constance threatened their shop.
Grace can't just sit back and let her Mom be a suspect for this murder though. She decides to do some inestigating on her own. It doesn't help when Grace's ex-husband finds the murder weapon in her Mom's house. The good thing is that Special Agent Dillon is on the case and he believes the Terhune's are being set up.
Now what you really want to know....my thoughts:
It was a little slow going for me at first. I liked Grace right away but I think some of the writing was throwing me off. Sometimes it seemed like sentences didn't make sense or something. I'm still not sure if it was done to seem like how Grace would talk/think or not though. Either way, once I got into the book a bit more I didn't notice it bothering me. I couldn't help but love the woman who are all part of Grace's close group and who work at the salon and want to help find the real killer. Grace, her Mom Violetta, and Althea are great characters. This is only the first in the series, but there's a lot of promise for this one and I can't wait to read about these three woman again.
There's one part where a water moccasin is put in Grace's apt and when she notices she says "Ye Gods!" I just want you all to know that if it had been me, the words coming out of my mouth would not have been appropriate for publication. lol! My heart went pitter patter just reading about the snake.
psst - don't you just love the cover of the book? I like the little quote or whatever you call it on the cover too. It says "Bad hair can be murder".
Thanks to Megan with Berkley for providing this book for review.