**sticky post to remain at the top until 9/4/10**
As promised..here is a giveaway for
CSN Stores
. First, however, here's what I got and what I think of the whole experience.
I spent lots of time viewing a lot the items on CSN, I believe they advertise that they have 200+ stores and that means lots for me to look at. I debated between getting something fun for myself or getting something that we need around the house. I have to admit that the house won.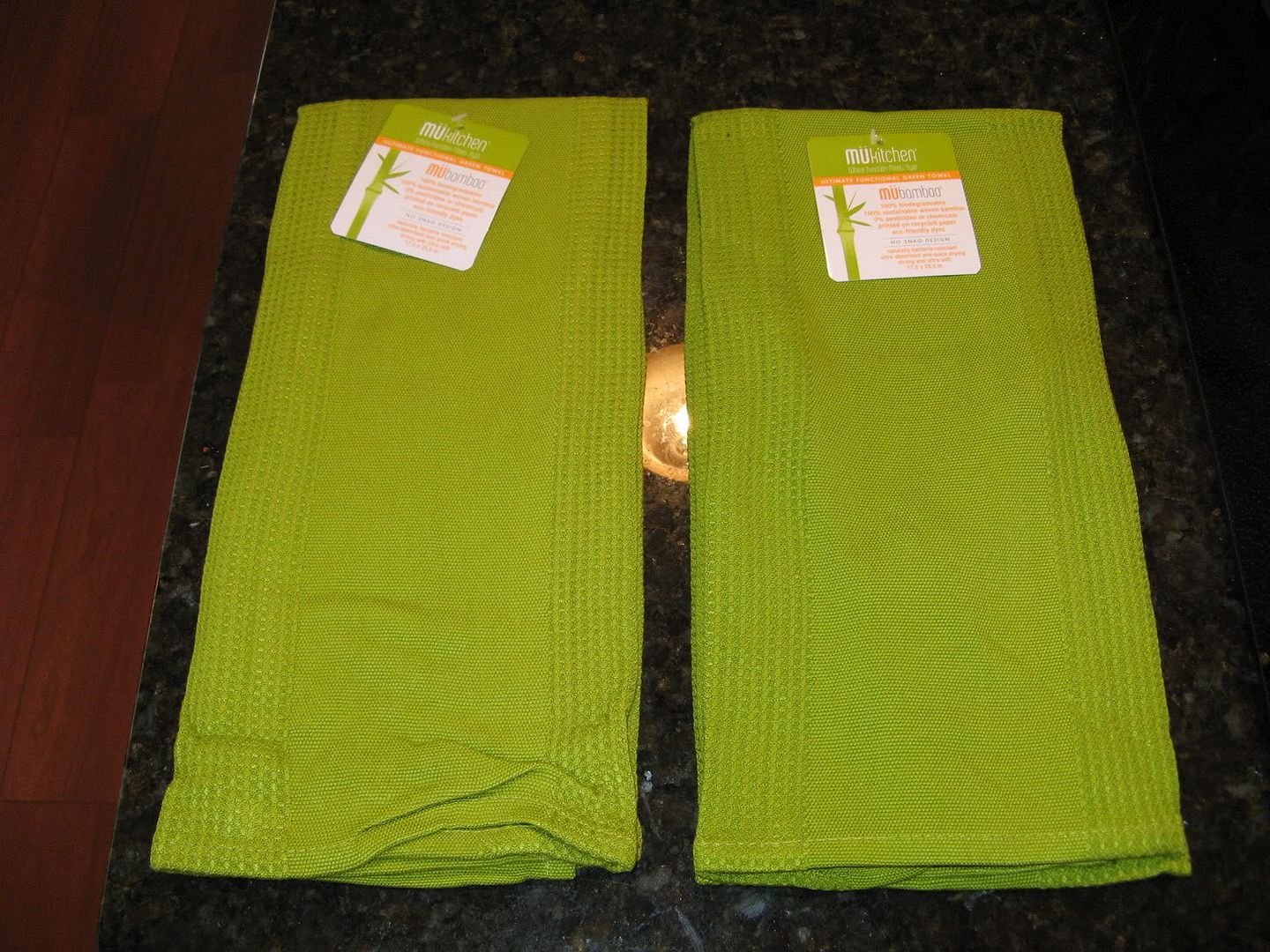 I have been wanting more/new dish towels for awhile but very undecided on what to get. I think we've all been there..gotten towels that were supposed to be absorbant but weren't. So I looked around on CSN and finally decided on some bamboo towels. I like that they are biodegradable for when they are no longer of use for me and I have to get rid of them. I picked
MUbamboo
ones from
MUkitchen
because they used 0% pesticides or chemicals and I liked the color. I am happy to report that after using the towels these last several days I am very happy with the results. They are incredibly soft and super absorbent. In my opinion, bamboo is the way to go and probably the only kitchen towel material I'll be buying from now on.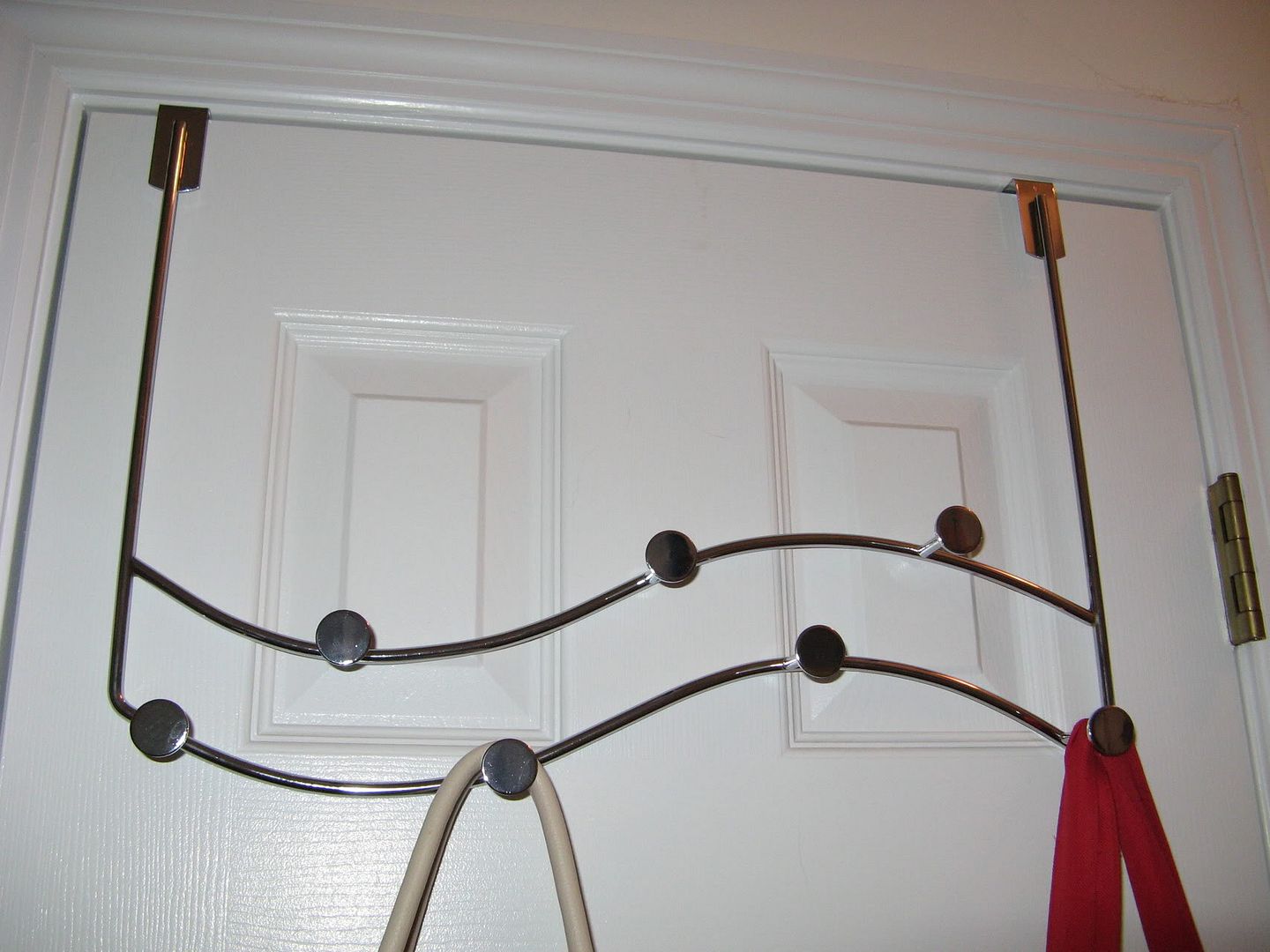 I have also been wanting hooks to hang up my purse and bag that I take to work every week day. When we come in via the garage we walk through the laundry room and I wanted to put them in there. The problem is that any wall space that wouldn't be in the way of where we walk is covered with shelving. Great for organization and storage, not so great for hanging up coats and purses. I had finally decided I would get something for over the closet door in that room only had trouble finding one I really liked at the local stores. I did a search on CSN and found one that looked like it would work great and priced well. It's the
Spectrum Sweep Over-the-door-7-hook
. It does come with pieces you screw into the part that shows up on the back of the door, so you can make it tight to the door so it is more secure and doesn't move around. I couldn't use these because when I did it didn't allow me to close the door completely. Since this is out of the way and not in a place I think we'll be knocking into it, I'm not too worried about it moving. That being said, I've been using it all weekend and had to hang up and take down my purse several times and haven't noticed any problems. So far, I'm very happy with this purchase as well.
As far as CSN. Great service. I did have a $30 gift code to use and once I picked out my items and started to go through the check-out process I didn't have any problems knowing where to use it. I selected the cheapest shipping possible and received my items in 4 days. I have to say that this is a store I will shop at again because of the wide selection of products offered (that I can't find in my own city) and the easy of the whole process.
I will admit that I did get the $30 gift code because I agreed to talk about their company on my blog and also do a giveaway. I wanted to do both (the giveaway and order myself something) so that I could experience the process and either feel good about it or go back to them and say you know, not happy, I'm going to review your stores but I'm not comfortable sending anybody else to use it. I'm so glad I don't have to do that.
I realize this has absolutely nothing to do with reading or books, but heck, I didn't think you would mind since you get the chance to win a gift-code for the stores. Who doesn't love free?
Giveaway info
This giveaway is for a $30 gift certificate code..which is the same as $30 gift card...which is the same as $30 in free products at CSN. Please note that
this code will not cover international shipping fees to Canadian addresses.
To enter into the giveaway, please fill out the form below.
Please only enter once.
I will use random.org to pick the winner.
This giveaway is open from 8/23/10 through midnight 9/4/10.
**I'm asking for your first and last name just in case of duplicate first names and last initials. I will also be providing my contact with CSN the winner's name and email address so they can email you the code for the $30 gift certificate so please make sure the email address you provide is a valid one.