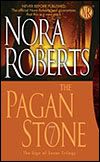 #3 Sign of Seven trilogy
Publisher: audio version - Brilliance Audio
Genre: fiction
Challenges: Audio Book challenge
Author's
Website
My rating: 2.75/5
Simple Description:
In this final addition to the trilogy, we focus more on Gage and Cybil, the last duo. Of course, like the other two books these two were not a couple at the beginning but they were by the end.
It's getting closer to the date, the date that the 6 will need to come together and fight the evil that has been terrorizing Hawkins Hallow every 7 years since the three boys were little. We find that Gage enjoys his single life and plans to get out of town as soon as it's over. Then we find that it might take his sacrifice in order to kill the evil thing, and he's willing to do that.
Gage and Cibil both share the ability of precognition. They band together to try and get a glimpse of what's to come so they can better prepare for things and for the final battle.
Now what you really want to know....my thoughts:
I thought the book was good, but not great. I liked it more than I liked the 2nd one in the trilogy and I think it's because I liked the character of Gage a lot more than I did Fox (the main guy character in the 2nd book). I'm not sure why I didn't like this trilogy more than I did, I would expect to because it has a paranormal aspect to it. I still thought it was good and a decent read. It just left me wanting more.
This is the first Nora Roberts trilogy I've tried and I have read a couple of other blog reviews and it seems this isn't one of her best. With that in mind, I'll be giving another trilogy/series a try in hopes I like it more.
This trilogy was read by Dan John Miller. I think he did an excellent job. He changed his voice enough for each character that you could easily tell them apart and that always makes for a better audio book in my opinion.
This audio book was rented from my local library.