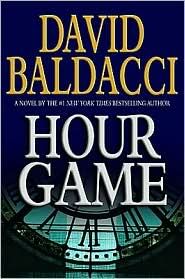 #2 King and Maxwell series
Copyright: 2004
Publisher: Columbus Rose
Genre: Mystery
Pages: 590
Challenges: buy 1 book and read it
Author's
Website
My rating: 4/5
Simple Description:
Since starting their own investigation service, King and Maxwell have been busy. Fortunately things have slowed down a bit and Maxwell is able to head out on a nice long run. Unfortunately she finds something that puts her and King in the path of a killer. Suddenly bodies start to pile up. It appears to be a serial killer who imitates other serial killers. A serial killer who doesn't leave evidence behind and doesn't seem to be following a pattern.
While King and Maxwell aren't officially involved in the investigation, at least not right away, they do take it upon themselves to help out. They are also trying to help out a local man who is accused of stealing from the richest family in the area, the Battles. The two cases seem to be linked when the patriarch of the Battle family dies and it appears to be the work of the serial killer.
Things get even more intense when King and Maxwell's lives are threatened. Are they getting too close to the killer? If they are, they aren't sure why.
Now what you really want to know....my thoughts:
I thought this was a great follow-up to Split Second. There were a lot of twists and turns in this one. It seemed like every time King and Maxwell turned around another body showed up or something else happened to muddy the waters. I can't help but like the partnership between King and Maxwell. They were great together and part of me hopes that they make it a romantic relationship in the future (even though I know that probably wouldn't be best for their work partnership). Sometimes it seemed that King kept too much from Maxwell but you gotta love the guy anyway. As for Maxwell, what's not to love about a girl who could kick anybody's ass?
I'll definitely be reading more in this series. The first two have set the bar..lots of twists and turns that keep me reading well past my bed time.
This book is part of my collection and was either bought or given to me.