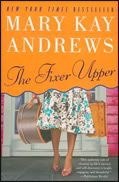 Copyright: 2009
Publisher: Harper Audio
Genre: fiction
Pages: audio
Challenges: Chick Lit
Author's
Website
My rating: 3/5
Simple Description:
Dempsey Killebrew is a lobbyist in DC. Or, rather, she was. Her boss is accused of bribing a congress man, and her boss is putting all the blame on Dempsey. She soon realizes that while she did hire the prostitutes, she didn't realize that's what she was doing at the time. Unfortunately, the damage is done. She is out of a job and has no hopes of getting another one in DC.
Her father, Mitch Killebrew, recently became the owner if a family home in a small town in Georgia. He sends Dempsey there to clean up the house and make some necessary repairs so the house can be sold. He thinks this sounds like a win-win situation, he doesn't have to do the work or pay somebody to do it and Dempsey will have a place to stay while the fiasco in DC is cleared up.
When Dempsey arrives at the house she realizes that it's going to need a lot more than just some elbow grease to make the house in selling condition. She also finds that while she can run, she can't hide. She soon finds that her past is coming after her and she doesn't know what to do.
Luckily she meets some great residents of this small town and they help her with her troubles. Not to be left out is Ella Kate and her dog, Shorty. She might not like Dempsey and she might be living in the house, but you can't help liking her.
Now what you really want to know....my thoughts:
I liked the book, but I didn't love it. I had a really hard time connecting with Dempsey. She went to Georgetown and graduated at the top of her class, but there were so many times I wanted to shake her. I suppose she's what you would call book smart but not street smart. She finally came around towards the end of the book and seemed to wise up and take action with her life. That's when I started to like her more.
I thought most of the other characters were fun, I adored her lawyer and his son. I didn't like her father, but then I don't think I was supposed to.
This was only my second book by this author and while I didn't like it as much as I liked the other I read, I still liked it enough to plan on reading more by this author.
Isabel Keating is the narrator for this audio book. I think she did a great job with it. She changed her voice enough to separate the different characters but not to the point where it was annoying.
This audio book was rented from my local library.