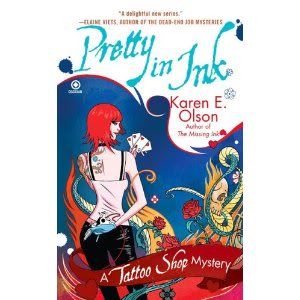 I feel a bit rushed to get in two reviews today since it's the end of the month. Therefore I'm just going to do two mini reviews and not my normal format. I finished this book yesterday and another book today.
Pretty in Ink is the 2nd book in the Tattoo Shop mystery series by Karen E. Olson. I loved the first one, The Missing Ink, and I'm happy to report that I loved this one too. Brett is a great character. In this book she goes out on a limb to help find a girl who works for her and who she feels is in a lot of trouble.
This book starts out at a drag queen show. Nothing like that to get your interest right from the beginning is it? Of course, this does take place in Vegas and as well all know, anything goes in Vegas.
Brett witnesses somebody attacking one of the drag queens and while she didn't see the attacker's face, she did see the queen of heart tattoo on his forearm. She tries to tell this to the investigating officer but he seems more interesting in making Brett's life miserable than actually finding the killer.
One thing I love about this series, so far, is that there aren't any characters to hate. Sometimes this can be a bit much in cozies and you hate a character or find them annoying to the point that you don't want to continue with the series. I'm so glad that isn't the case with this one. I love Brett and I love most of the supporting characters as well.
I already have the 3rd in the series and can't wait to get to it. Even though this cozy series does revolve around tattoos (something I like) I don't think it's something that will turn some away and I think it actually makes for a fun cozy.