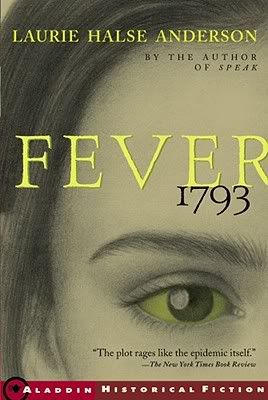 Copyright: 2000
Publisher: Aladdin Paperbacks/Simon and Schuster
Genre: young adult
Pages: 251
Challenges: Year of the Historical
Author's
Website
My rating: 2.5/5
Simple Description:
It's the summer of 1793. Mattie Cook lives with her Mother and Grandfather in Philadelphia and helps her Mother run a coffeehouse. It's the middle of August when the rumors start and the first cases are reported. Yellow fever has struck the city. When Mattie's Mother becomes ill, Mattie and her Grandfather leave the city to go live with friends who own a farm. They never make it there though. Matti's Grandfather is expected to have yellow fever and they are dropped off in the middle of nowhere. When Mattie is out searching for food, she becomes ill herself. Just when you think things couldn't get any worse, they do.
Now what you really want to know....my thoughts:
I hate to say it, but this is yet another book that was just ok for me. At first Mattie got on my nerves a bit, but I think it's because she was being portrayed as a normal teenage girl, when I wanted her to act more grown up because of the time period. Towards the end of the book Mattie really shined and that's when the book picked up for me and when I started to enjoy it more.
I think the author did a great job of portraying the times and what it was like when there was an outbreak of yellow fever. I thought the story itself was good. I just didn't like Mattie right away and since she's the main character, I just didn't like it as much as I had hoped.
That being said, I definitely plan to read more by this author. I've heard such wonderful things about Wintergirls and Speak. If I remember correctly, those I've talked to who have read several by this author list Fever 1793 as their least favorite. I have my fingers crossed that that means I'll enjoy her other books a lot more.
Thanks to ????? for providing this book for review. This book is part of my collection and was either bought or given to me. This audio book was rented from my local library.