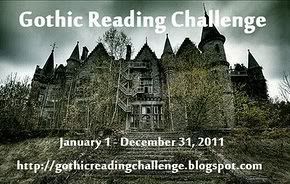 It's that time again..time when people put together the challenges they are hosting for the next year and I start browsing them and signing up for more than I can handle, thinking that next year will be the year I complete them all!
This one is definitely going to be a challenge for me, and I'm only signing up for the lowest level, 1 book. Why is it going to be hard, because most of the gothic reads are classics (although not all of them). What do I often run screaming from when I see them? Classics. Why oh why am I doing this challenge then? Because I want to like classics and there are some I tell myself I want to read.
Onto the challenge...
The challenge is to read at least one book with a gothic element to it. Her blog lists some books and also some of the elements if you want to take a peak at them and find a book on your own. There are three levels, the highest being "Mad, Bad, and Dangerous to Know" with 20 books or more and the lowest being "A Little Madness" with 1 book. I'm only going to go at this challenge with "a little madness".
The challenge runs January 1st through December 31st 2011.
Here are the books that interest me for this one, not sure which one I'll end up reading yet, guess it will be a surprise for all of us:
Dracula by Bram Stoker
The Haunting of Hill House by Shirley Jackson
The Legend of Sleepy Hallow by Washington Irving
The Name of the Rose by Umberto Eco
Rebecca by Daphne de Maurier
Shutter Island by Dennis Lehane