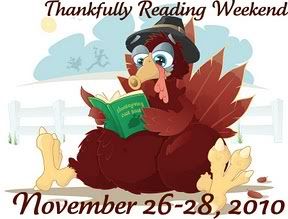 I've decided to participate in the Thankful Reading Weekend this coming weekend. This event is being hosted by
Beth Fish Reads
,
Jenns Book Shelves
, and
Devourer of Books.
So what is

Thankfully Reading Weekend

? First let me assure you that you don't need to be from the USA to set aside a weekend to read--so don't be shy join right in.





There are no rules

to the weekend and no prizes (well, except one!); we're simply hoping to devote a good amount of time to reading, and perhaps meeting some of our reading challenges and goals for 2010. We thought it'd be fun if we cheered each other on a bit.
If you think you can join in, head on over to
Jenn's Bookshelves
, grab the button, and sign on to Mr. Linky (available NOW). If you don't have a blog, use the comments!
On Friday November 26th, stop by
Jenn's Bookshelves
where you'll find a Mr. Linky. Feel free to link as many posts as you'd like. On Sunday there will put up another Mr. Linky (at Jenn's) for your wrap-up post.
Remember - no rules! Read as much or as little as you want. You can participate in the weekend even if you have time to read only 50 pages.
There will be a small giveaway open worldwide. You'll have to visit
Beth Fish Reads
on Friday (Nov. 26) for information.
Normally on the Friday after Thanksgiving Husband and I decorate the house for Christmas, we put up the tree and any other decorations. I'm sure we'll be doing that again this year. The only other, non-reading, activity I have planned is the Great River Road Run on Saturday, which will take up all of my morning and possibly part of the afternoon. Other than that, Husband has already been warned that I plan to read the weekend away.