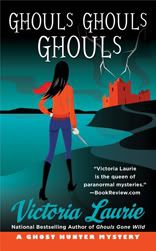 #5 Ghost Hunters series
Copyright: 2011
Publisher: Obsidian
Genre: mystery
Pages: 336
Challenges: Paranormal/Fantasy Romance, Crusin' Through the Cozies
Author's
Website
My rating: 4/5
Description:
M.J. and the crew are on their way to Ireland for the latest ghost busting adventure. They are still working on producing episodes for their upcoming tv show. Their producer, Gopher, has found one with a phantom even scarier than what they just encountered in Scotland. They aren't too happy, until they find out it's also a treasure hunt. Dunlow Castle is set on a rock out cropping that can only be arrived at by walking along a causeway during low tide. If it isn't low tide, the walkway is buried by water. The water itself is too dangerous for anybody by the coast guard to be in, and then only in dire emergencies. The phantom itself is known to send people to their deaths over the edge of the cliff. However, tourists still try to explore the castle because it's said that some Spanish ships crashed on the shore of the castle rock and one of the ships was carrying a lot of gold. The gold has never been discovered.
M.J., Gilley, and Health aren't exactly excited to be investigating this one but they go along with it. Unfortunately things go from bad to worse on their first encounter. Not only do they realize the Phantom is the strongest thing either Heath or M.J. have come up against, Gopher goes missing. Even though the last thing M.J. wants to do is repeatedly visit the castle, she knows she has to in order to find Gopher.
My thoughts:
I've loved this series since book #1 and this one doesn't disappoint. Sometimes I think M.J. is a little too harsh with Gilley, but at the same time you can understand why. Plus, it never lasts long. Gilley is always good for a laugh too. I have to admit that I did figure out the mysteries before the characters did, but that didn't ruin it for me. I enjoy the characters enough and the story kept moving and was interesting enough for that not to matter.
If you haven't picked up this series yet but think the ghost busting aspect sounds fun, I highly recommend it.
For me, this is what cozy mysteries are all about. A bit of mystery and a whole lot of fun. While I'm glad to be caught up on a series, it's also sad to know I'll have to wait another year to hang out with these characters again.
Thanks to Penguin for providing this book in hopes I would review it.