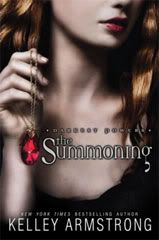 #1Darkest Powers
Copyright: 2008
Publisher: HarperCollins
Genre: young adult
Pages: Audio 7 disks/8.75 hours
Author's
Website
My rating: 3.5/5
Simple Description:
It starts off like any other day, then things improve, then they just get weird. Weird, as in Chloe Saunders saw a ghost. Then she was admitted to Lyle House, a home for troubled teens. She is suppose to deal with this illness, which they diagnose her as being a schizophrenic. However she doesn't show any of the symptoms other than seeing a ghost.
At first she feels she is seeing things, but then she realizes that they are ghosts. She does have a super power. It appears that several other kids at Lyle house have one too. Even Derek, the boy who scares her, seems to have a power.
Chloe soon realizes that Lyle house might not be exactly what it appears. Why is there a door in the basement kept locked? Is it just a coincidence that so many kids seem to have special powers at Lyle house or are they there for a reason? Does she dare run away in hopes of finding answers?
Now what you really want to know....my thoughts:
I thought this was a fun YA novel. This is the first in the series and it is left with a bit of a cliff hanger, pulling you to pick up #2 in the series right away. Chloe has moved around a lot growing up due to her father's work. The last thing she wants is to have some kind of power that would set her apart from others, she just wants to be a normal kid. She tries to ignore the ghosts and what she sees, but as more things happen she realizes that's not something she can do.
I liked how the author introduced the different powers from these kids. It wasn't something totally obvious to them or to the reader. It's something that Chloe learned and it appeared as if some of the kids are still getting used to it. Simon and Derek are the exception. They play an important role in this series too. While you can't help but like Simon right away, you end up liking Derek too. For me, Derek ended up being one of my favorite characters.
This is a paranormal book, so it's not for everyone, however if you like a bit of paranormal and YA, I recommend giving this one a try.
Thoughts regarding the audio version
The audio version of this book was narrated by Cassandra Morris. At first the author's voice seemed too young for the character. I realize the character is only 15 in the book but I just expected her be older maturity wise and to sound older. So at first I admit this bothered me. However, as I listened to it the narrators voice grew on me and it did feel like it fit Chloe. Other than that, I didn't have any issues with the audio version. I thought it was well read and will definitely borrow the others on audio from my library.