Weekend Cooking
is open to anyone who has any kind of food-related post to share: Book (novel, nonfiction) reviews, cookbook reviews, movie reviews, recipes, random thoughts, gadgets, fabulous quotations, photographs. If your post is even vaguely foodie, feel free to grab the button and link up anytime over the weekend. Please link to your specific post, not your blog's home page. For more information, see the
welcome post. (hosted by Beth Fish Reads)
I have yet another cookbook review for you. This is actually rather impressive since I'm not known for actually looking at/reading cookbooks...and this is cookbook #2! I first read a review about this cookbook on a weekend cooking post over at
Bermudaonion's blog
. I just knew I had to check it out for myself.
This cookbook is another one where the recipes are form an actual bakery,
Clinton St. Baking Co
in New York. Once again, this is another cookbook where I had so many recipes marked that I wanted to try, I returned it knowing I would end up buying the book. Oh, and if I remember correctly there is a picture for each recipe.
Before returning the book to the library I actually made one of the recipes. Once again, I made this specific recipe because I walked into the kitchen and Husband had the book open to the recipe in a silent plea to make it for him. Nice wife that I am (and the fact that I had some heavy whipping cream that expired that day and would rather use it than throw it away) I made him the dessert requested, Flourless Chocolate Cake.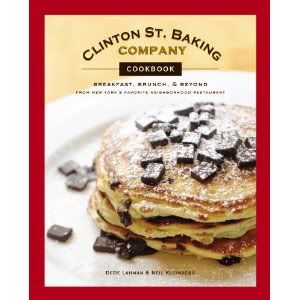 I might be a pain in the butt, but Husband will keep me around because he has decided the flourless chocolate cake is one of his top 3 desserts...ever. That's rather high praise don't you think? I thought it was good, but didn't like it as much as he did and that's due to one of the changes I made with the recipe. I took a piece in to work and gave it to a co-worker since he has candy out on his desk and I'm always eating it. He thought it was really good too. It's very rich and Husband knew he couldn't eat the whole thing, so he had me take some to his Mom so his parents could have some (I work with his Mom). I gave them a rather large chunk, with it as rich as it is the piece was enough for 4-6 servings. By the time I got home that day, Husband had already talked to his parents and they finished it. They ate it all. They loved it. I took them more the next day.
While walking Myla, Husband stressed the need for me to copy the recipe and write down all the changes I made to it. I said..oh, I didn't make that many. So he went over with me what I did differently and each time I said "oh yeah, I did this too." He told me to write it down exactly as I did it so I can make it the exact same way again. It's going to be upsetting if I make it again and he doesn't like it as much. I've been feeling rather good about myself for making such a wonderful dessert.
This dessert was not hard to make, but there are some different steps to it and some things that require you to whisk for awhile which can be uncomfortable for our arms. I'm going to post the recipe for this one and at the end I will let you know what I did differently.
From: Clinton St. Bakery
Makes one 10-inch cake
1 Tablespoon unsalted butter, room temperature
¼ cup plus 1 cup sugar
1 ¼ cup strong, freshly brewed or cold coffee
3 ¾ cups semisweet chocolate chunks (52 – 62% cacao)
7 large eggs
1 ¾ cups heavy cream, chilled
½ cup unsweetened cocoa powder, sifted
Raspberry Caramel Sauce (page 178)
Real Whipped Cream (optional; page 178)
1. Preheat oven to 325F. Lightly grease a 10-inch springform cake pan with the butter. Add ¼ cup of sugar to the pan. Shake the sugar along the buttered sides and bottom so that the pan is coated. Tap the pan with your fingers to release any excess sugar and discard.
2. If the coffee is hot, pour it over the chocolate chunks in a bowl and whisk quickly to melt the chocolate. If the coffee is not hot, place the chunks and coffee together in a microwave-safe container and heat together for 1 to 2 minutes on high, until the chocolate is melted.
3. Bring a pot of water to a simmer. In a metal or glass bowl, whisk together the eggs with the remaining cup sugar. Place the bowl over the simmering water and whisk continuously until the eggs become light and fluffy.
4. In a separate bowl, whip the cream to medium peaks either by hand or with a handheld mixer.
5. Add the coffee-and-chocolate mixture to the eggs in two stages, folding between each stage. Gently fold in the cocoa powder and then the whipped cream, using the same method.
6. Pour the batter in the prepared pan. Wrap the bottom of the springform in heavy-duty foil. Pleace the pan in a shallow baking dish and fill the dish with hot tap water until the water comes up 1 to 2 inches along the sides of the pan.
7. Bake for 1 hour and 20 minutes. Turn off the oven, prop open the oven door, and allow the cake to cool in the oven for 30 minutes. Remove the cake from the oven and cool for 2 hours in the fridge or at room temperature.
8. To serve, remove the outer ring of the pan. Cut the cake into clean slices using a knife dipped in warm water and wiped in between slices. Serve with Raspberry Caramel Sauce and Real whipped Cream.
My changes:
1) I didn't measure the butter or the sugar that went into the sprinform pan, I just used a little as needed.
2) Instead of coffee I used Kahlua (we don't have coffee in the house and I figured this was the closest substitute) ***This is why I don't like the recipe as much, the alcohol taste is too strong for me.
3) For the chocolate, I used what I had in the house at the time. I used 1 bag of special dark Hershey chocolate chips and one bag of semi-sweet chips.
4) I did not make the raspberry caramel sauce or the whipped cream.
5)I didn't have a pan large enough for me to put a 10-inch springform pan into, so I used a smaller springform pan and put it in a pot that was just barely big enough.
6) I only cooked it for 1 hour 10 min, but that's because our oven cooks faster. I did leave it in the oven for 30 min after I turned it off and opened the door.