The Castlewood Cup is a local 15k (9.3 mile) trail run in my area. It's held at a local state park, Castlewood. I actually live right by the park and run there on the weekends, weather permitting. I ran cross-country in highschool and love trail running. I have to run streets during the week but on the weekend, I'm not happy unless I can get to a park and run.
The trail run was this past weekend, February 26th and luckily I was able to run it with a friend. This 15k trail run was pretty tough. It would have been tough no matter what, but factor in the horrible training I've had and I knew it was going to be tough. I ran a 10 mile race in November that left my heal hurting (due to a heal fracture that still bothers me) and I didn't run for a week or two. Then in December I got a cold and took it easy. Then we were getting lots of ice and snow. Then the end of January I had an out patient surgery and I couldn't do anything for a week. Well, really, I should have rested for more than a week but I was itching to be active. So while I did start running again..I had to keep my mileage light because of pain and a risk of making my incisions worse. So coming up on a 9.3 trail run, I had only been averaging 4-5 miles. The week before I did run 7.1 miles at the park and I did the majority of the course and I felt somewhat better about the race.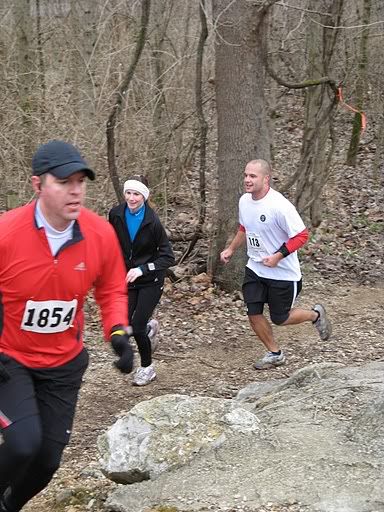 I'm in black with a blue shirt
Why do I tell you my sob story? I want to give you the background so that when I tell that I 1)finished the race and I wasn't last 2)ran the entire race...didn't walk up any hills and 3)felt horrible the last couple of miles but still kept at it, you'll know just how happy that all makes me! My time was slow and normally that's something that would upset me, but knowing how bad my training had been...I'm not letting it get me down. I completed the course, I ran up all the hills (I'm still surprised by the large amount of people I passed walking up all the hills), and I ran the entire course. Oh, just in case you were wondering, my pace was 10/21 min/mile. I wanted to be under 10. My last mile was actually 9:08, which really surprised me since I was so tired. I knew my pace would be slower due to the hills (my pass was a bit over 11 on a couple of the hills) but I had hoped to make up time on the downhills and flats. Oh well, there's always next year!
Here's how the company describes the course:
Big River Running Company is proud to announce the third annual Castlewood Cup. The race will be a true test of trail running with a 15k course that includes uphills, downhills, switchbacks and even a creek crossing. The course was designed by local trail running gurus Skip MacDowell and Blair Porter and they made sure to make things exciting for you
Husband had decided to come along and I made him bring the camera. He's not a runner, doesn't get it, doesn't like cold weather (neither do I!) but he was a sport. He even moved around a bit on the course so he could snap different pictures. He couldn't walk to most of the trail..but he could to some areas that were by the road.
Oh..and my fear of being last? No worries there! I came in 192 out of 322. I was the 45th girl, out of 112.
The dreaded creek crossing. Ok..really..I thought the creek crossing would be fun (and it was) but at the same time it was really cold, mid 30's that day, and we had received a lot of rain earlier in the week. I was worried about how high the creek would be and also paranoid I would fall in it.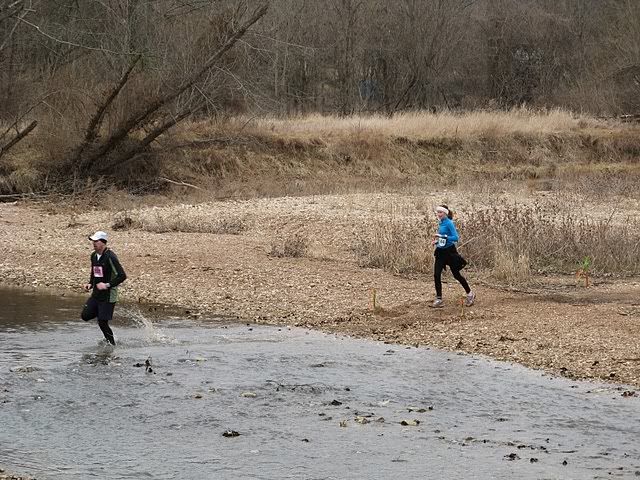 Ta-da! No falling for me!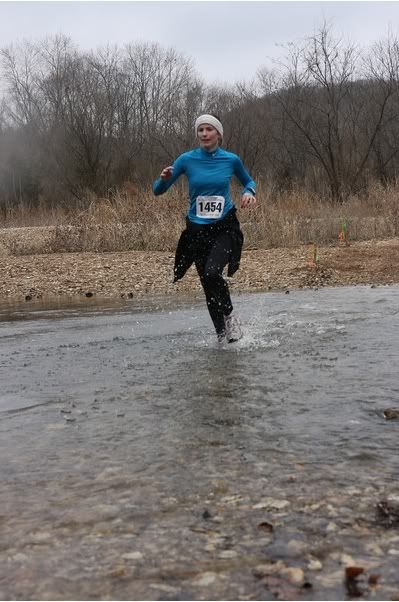 The finish..at last!!!!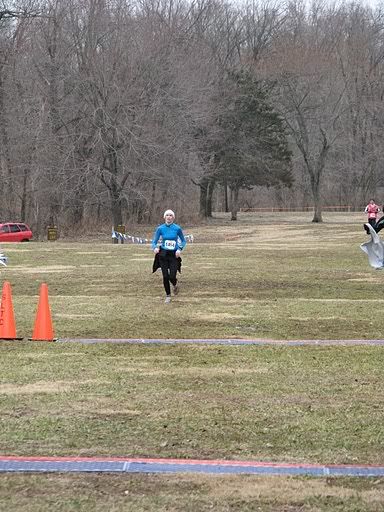 After the race....standing near the heat lamps but still shaking from the cold.