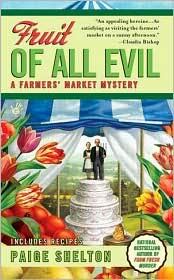 #2 Farmers' Market Mystery
Copyright: 2011
Publisher: Berkley Prime Crime
Genre: Mystery
Pages: 281
Challenges: What's in a Name? (evil), Crusin Through the Cozies, 2011 Pub challenge
Author's
Website
My rating: 3/5
Simple Description:
Becca once again finds herself involved in a murder investigation. This time it's because her friend, Linda, and her friend's fiancée, Drew, are possible suspects. When the mother-in-law to be is found dead in her home, the most likely suspects are family. Becca briefly wonders if Linda did it, but quickly pushes that aside. She's not so sure about Drew though, especially not after she over hears him on his cell phone when he thought he was in private.
Becca also knows that some of Drew's cousins act a bit iffy and bother her. Could they have something to do with it? How about the fact that the murdered woman worked at a bank and has sent several foreclosure notices, could one of the recipients be the murderer? How about Becca's own boyfriend, he received a call from the victim earlier in that day, is he guilty?
Becca has lots of suspects and even though she isn't on the police force she is friends with the lead investigator and working with clue's they've both found, they solve the murder.
My Thoughts:
I have much the same over-all thoughts with this book as I did the first one,
Farm Fresh Murder
, when I reviewed it last year. I love the setting, sounds like a wonderful place to live.
I think Becca has good intentions. The thing is she's not very smooth with asking questions, she's very much "in your face" and that can be hard to read with a cozy. Her character also bothered me a bit because she didn't trust that her friend was not guilty right away, she had doubts.
The story itself is good and entertaining. Lots of potential guilty parties involved. I do think this series is still it's infancy and is good enough for me to hang on for more. I think it has a lot of room to grow and I hope to see Becca's character be a bit smoother on the next book.
Thanks to the publisher for providing this book for review.