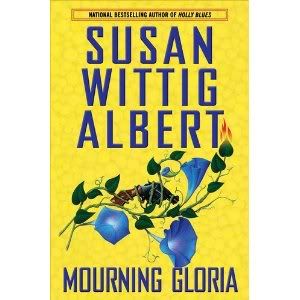 #19 China Bayles
Copyright: 2011
Publisher: Berkley Prime Crime
Genre: Mystery
Pages: 320
Author's Website
The China Bayles series is one of the first cozy series I ever read. Then I got caught up in cozies and started so many series, this one was put on the back burner and sadly I haven't read any of the last 5 books. In fact, you might remember that this is one of the series I'm trying to get caught up on this year (and sadly haven't read one yet). I was given the opportunity to get a copy of the new book for review on my blog and I jumped at the chance..then realized I didn't really want to read the series out of order. Then I had an idea...my Mom reads this series. I bet I could convince my Mom to review it for me! Lucky for me, she was up for it, even though she was nervous.
I kept forgetting to come up with questions..and then she told me she finished it. Ooops. So this was a fly by the seat of your pants interview! It's short, it's sweet, you get the idea.
First, here's a brief description of the book thanks to
Berkley Prime Crime's website
:
While Pecan Springs bustles back to life in the warmth of spring, one woman's life is tragically brought to an end. China Bayles happens upon a burning house trailer and hears a woman screaming for help. The evidence leaves no doubt that it's arson homicide.
Jessica Nelson, an intern-reporter at the local paper, is assigned to cover the story. But she's gotten herself too deeply involved. When Jessica disappears, China is determined to find her, before she becomes headlines herself
Without Further ado...here's my Mom's review. My questions in blue and her response is in red.
What are your over-all thoughts regarding this book? Did you like it, love it, thought it was just "eh, ok"?
I really enjoyed this one. Of course, I've liked them all. I liked the way she explained things regarding plants.
How does this one compare to the other books in the series? Is it just as good as the previous ones or did you think it was better or worse? Why?
I think this one was a little better. It's hard for me to explain, but in reading it I found it very interesting how she figures out who did it.
What did you think of the mystery itself? Did it keep you guessing or were there enough clues that you were able to figure out who did it?
I thought the mystery itself was good. Sometimes you can figure out who did it, but in this one it kept me guessing. I was thinking it was someone else all together. Also, I liked the way one chapter was about one person and what they were thinking and then the next was China trying to figure out what happened.
Ok..I know you don't normally review books, so one last question, would you recommend this book to others? Would cozy fans enjoy this series? If so, do you think they should start with the beginning of the series or could they jump right in with this one?
I definitely think other cozy fans would like this series. I prefer to start a series at the beginning so you have all the people straight in your head, but she explains the characters in each book without saying exactly what she said in the last book, so it's not boring for the reader who's read them all and a new reader knows the characters. So, yes, you can read this one without reading any of the others.
I lied, one last question. How would you rate this book on a scale of 1 to 5? Here's my rating scale if you want to go by this:
1 Star: Either a DNF or one step up
2 Stars: Ok, I had some issues with it, but didn't hate it
3 Stars: Very good, worth reading
4 Stars: Incredibly good, highly recommend
5 Stars: Awesome, one of the best of the year
So there you have it! Sounds like this is a series that keeps getting better, and that's saying something since it's up to 19 books. I can't wait to dive back into the series and get to this one. My Mom mentioned that she loved the parts where the author talks about the plants. I had forgotten about that. I always loved the parts of the books where the author talked about the different herbs and talked about growing them and uses.
Thanks so much to my Mom for allowing me to interview her and post it on my blog. Aren't Mom's great?