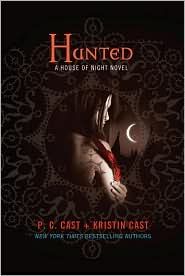 #5 House of Night
Copyright: 2009
Publisher: Macmillian Young Listeners
Genre: young adult
Pages: audio
Challenges: Strong Heroine, Urban Fantasy, Young Adult
Author's Website
My rating: 2.5
Simple Description:
Book #5 starts where book #4 stopped. Zoey and group are now hiding out in the tunnels trying to figure out where to go from here.
Ok, so that description sucks. Here's the thing, I don't want to give anything away. I don't want to include any spoilers. You really can't start the series with this one, you would be confused. So just know this is #5 and you need to start this series at the beginning with #1.
My Thoughts:
This is actually my least favorite of the series so far. It just kinda felt like nothing was really happening..even though I know it was. Perhaps it was just taking too long to get to the point of it all. Plus there were several times when I wanted to shake Zoey.
Don't let this review keep you from trying out the series. I've been really happy with it up to this point. I think ever series has a book that is a "least favorite" and my guess is that this is the one for me. At least, I sure hope it is. I have high hopes that #6 will be as good as the others have been. I still liked the story, think it was important to the series, just not a favorite. I'll definitely be continuing with this series too.
Audio Review:
Jenna Lamia is the narrator for this one, she's been the narrator for several of these. She does an excellent job and I'm still planning to continue with this series via audio.