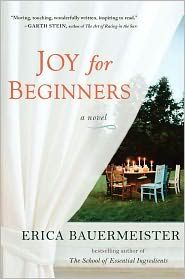 Copyright: 2011
Publisher: Putnam
Genre: fiction
Pages: 269
Challenges: I want more, Pub challenge
Author's
Website
My rating: 5/5
"Adults need to have fun so children will want to grow up." p. 99
Simple Description:
The story starts off with 6 women getting together to celebrate Kate's recovery from breast cancer. When they learn that Kate's daughter wants her to do a rafting trip in the Grand Canyon and encourage her to do so, Kate agrees but only if each one does something they are also afraid of doing. The catch: Kate gets to pick what the must do.
The story is then told from each women's point of view. We learn more about each woman, what she must accomplish, and what this is hard for her. Of course, it's not just told to us. You have to read each story to get all the information and see why it's so hard for her to do what it is she needs to accomplish.
The book ends with Kate's adventure, where we also learn more about her.
"Irreversible decisions are good for the soul..." p. 172
My Thoughts:
I loved this book! I'm so happy I did too because I adored The School of Essential Ingredients by this author when I read it in 2009. I was extremely excited to be offered a review copy of this book but also a bit worried since I didn't know if it would live up to my expectations. I had nothing to be worried about.
While I have to admit the book got off to a slow start for me, it quickly picked up and had my full interest. There were some stories I liked better than others, just because I connected to the characters more or the thing they faced interested me more. For example, one woman is to get a tattoo. This is something she has wanted for a long time but never done and can't commit. I happen to love tattoos so for me this story was more interesting because the subject matter was already something I liked. I personally love this quote from that story too: "She collected tattoos like personal journal entries, a constantly updating record of her life." p. 166
I feel this is an excellent follow to the author's first fiction book and I can't wait to see what else we get from her. I definitely recommend this book to others. In fact, I think many of you would enjoy it.
Thanks to the author, Erica Bauermeister, for providing this book for review.