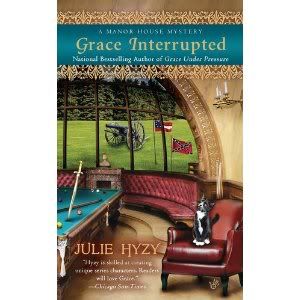 #2 Manor House Mystery
Copyright: 2011
Publisher: Berkley Prime Crime
Genre: Pages: 288
Challenges: Cozy Mystery Challenge, 2011 Pub Challenge
Author's
Website
My rating: 3
Simple Description:
It hasn't been that long since the last murder at Marshfield Manor but it appears they are going to be dealing with another. There is a group doing a civil war re-enactment on the property. This would be fine except that two women try to sneak into the encampment, which is off limits to guests, so they can taser a guy. When that guy shows up, he ends up punching one of the gardeners. This guy is then found the next morning, murdered. The cops think it's the gardener, since there is bad blood between the two families. This isn't the only murder they have been involved in. Grace doesn't believe the gardener is the one who did it and sets out to see if she can figure out who the real murderer is.
My Thoughts:
I thought this was an excellent follow up to the first in the series, Grace Under Pressure. Grace is a lovable character. She has her faults but you know she's a nice person and like her. The series even has the dreaded awful character, but in this one you see that she isn't so bad. Well, at least not all the time.
I personally thought the civil-war re-enactment part was interesting. I haven't done my own research to see if what was mentioned is really how things work, but I enjoyed reading about it. I also find it fitting that this is the 150th anniversary of the start of the Civil War and I've been reading a lot of articles and watching lots of shows. So it was a fun addition to the series for me.
Thanks to the author for providing this book for review.