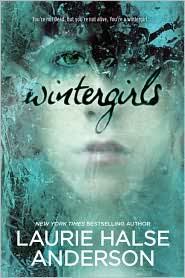 Copyright: 2009
Publisher: Brilliance audio
Genre: Young Adult
Pages: audio
Challenges: Off the shelf, Young Adult
Author's
Website
My rating: 5/5
Simple Description:
Wintergirls is the story of Lia. Lia is a high school student who suffers from anorexia. Her parents have already had her go through a treatment process twice. If her weight drops down more she'll have to go back. She is weighed weekly and while it has dropped a bit, it's not in the danger zone yet. What they don't know is that she's sewed weights into her robe so she can still lose weight but keep the numbers up.
Lia's best friend, Cassie, recently died. Well, they weren't friends when it happened but Cassie did reach out to her. Cassie also suffered from an eating disorder. Lia struggles with Cassie's death while she's also struggling with her own demons.
My Thoughts:
This book is one of the best of the year. I hate saying I loved it, when it's about such a tough subject. Yet, I loved it. The author does such a fantastic job allowing us to get inside Lia's head and understand what she is going through. What drives her to lose weight and starve herself. She does a great job portraying what is probably very normal reactions from parents who have a child suffering from an eating disorder.
Anorexia, eating disorders in general, is a very tough subject to read about, much less write about. Yet it's one that I feel we all need to be educated on so we can recognize the signs, recognize why people suffer from them, and how to best help. While this book is not a non-fictional study, I feel Anderson does such a great job with it that I would recommend it to others.
I have to admit, after reading Speak and Wintergirls, both very tough subjects, I'm moved Laurie Halse Anderson to the favorite author's list and I know I'll be reading more by her.
Audio Review:
I felt the audio version of this book was pretty good. It was easy to follow and kept my interest. Jeannie Stith is the narrator and I feel she does a very good job with this one. My only complaint is that throughout the recording there were long beeps, I have yet to figure out if they are supposed to be there or not. I found them rather annoying.