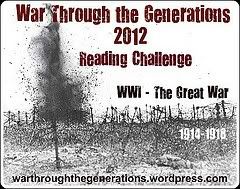 I couldn't resist signing up for the
War Through the Generations
challenge again this year. While I might not have done well with the Civil War challenge, I barely read anything for it although I watched a lot of documentaries, I still love this challenge as it gives me the kick in the pants I need to read about the different wars. This is something I'm interested in yet tend to put on the back burner.
This year the war we'll be reading about is WWI. A war I admit to know almost nothing about so I'm looking forward to the educational journey.
The level I'm going to participate in is:
Dip:
Read
1-3 books
in any genre with WWI as a primary or secondary theme.
The read-a-long book for this year is A Farewell to Arms by Ernest Hemingway. While the read-a-long will happen mid-way through the year, I'm going to work on getting a copy and will probably read it earlier so I make sure to get it finished. In fact, it might be the only book I manage to read for this challenge but I figure one is better than none.
If interested in signing up please visit the
War Through the Generations
Blog and let them know!