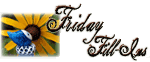 1. Contact may cause
BABIES
.
2. The parties hereto do mutually agree
to always wear fashionable shoes
.
3. Disney parks
are fun in the off-season and I'll probably be visiting Disney Land in May
.
4.
Sunshine and a dip in my new pool
sounds really good right about now!
5. I positively
adore traveling
.
6.
Wearing a new pair of shoes or using a new purse
always makes me smile :-)
7. And as for the weekend, tonight I'm looking forward to
relaxing at home
, tomorrow my plans include
going over inspection papers with the realtor and going to an open house party
and Sunday, I
hope people spend lots of money at my stampin' up party so I get lots of free stuff
! haha!