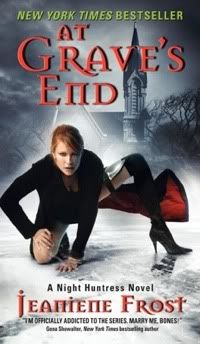 #3 Night Huntress
Copyright: 2008
Publisher: Avon
Genre: Mystery
Pages: 352
Challenges: Series Challenge
Author's
Website
My rating: 4.5/5
Simple Description:
Cat and Bones are still doing the same work, working for the US government trying to rid the world of the vampires who kill innocent people and cause harm. Of course, Bones is a vampire, but he's one of the good guys. Kinda. In this 3rd novel in the series, Cat is a target. She is known as the Red Reaper and while several want to kill her, it's Patra who wont' seem to stop till the Red Reaper is dead. Bones and his grand-sire team up and join lines and together they try to fight Patra.
Now what you really want to know....my thoughts:
This is another one where my description doesn't really due the book justice. The thing is, this is the 3rd in a series. If you read the series then you know who the main characters are and what they do for a living. If you don't read the series and want to, it's best to start with book one. I love this series so far. It's a lot of fun and this is another one where you can't help but like the main characters. I can't wait to see what happens in book #4.
This book is part of my collection and was either bought or given to me.