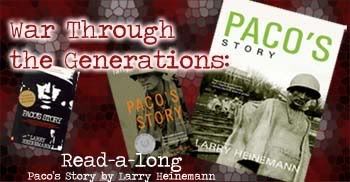 This is the
1st week
in the read-a-long of Paco's Story being hosted by the lovely ladies doing the Vietnam War Challenge.
The questions for week one are:
1. Who do you think the narrator is?
I honestly don't know. It's not Paco, because it talks about him in 3rd person. I read the comments on the read-a-long post for this and the suggestion was made that maybe this is a ghost, a fallen soldier. That got me thinking that maybe it could be the ghost of the medic, but then the medic is talked about in 3rd person as well. I'm interested to see if we can figure out the narrator by the end or if we just aren't meant to know.
2. What does the opening paragraphs of Chapter 1 tell you about the narrator?
I definitely feel like the narrator is somebody who has experienced this war and is bitter about it. It's somebody who talks very openly about it, using terms that I don't think any of us who didn't fight the war would use.
3. How do you think Paco's survival impacted the medic's world view? And how did that change the medic?
This part was rather interesting. I think it turned the medic's world upside down. It seems to me that he had hopped he would be able to save a lot of soldiers and right away, soon after he got to Vietnam and started working, he realized he couldn't. He would try to save soldiers just to learn that they died before getting to the hospital. While this bothered him, I think he got so used to it that he expected it. Then comes Paco. Paco should have been dead, but he lived. What was so different about Paco that he lived? I think the medic just couldn't deal with it, couldn't deal with why some men with horrible injuries that were left to die actually lived, and others who didn't seem to be as hurt didn't make it.
I don't think the narrator is too honest. Brutally honest? yes. Honest to the point that some descriptions, such as Paco when he was found, are disturbing? Yes. But too honest? No. I think that in a story like this we need that kid of honesty. It's that kind of honesty that makes the story what it is and drives home the point the author is trying to make.