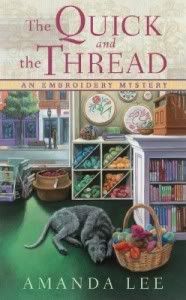 #1 Embroidery Mystery
Copyright: 2010 (not released till August 3, 2010)
Publisher: Obsidian
Genre: Mystery
Pages: 313
Author's
Website
My rating: 3/5
pst - doesn't the cover make you want to visit that store and give the cute doggy smooches? No? Oh..well I do.
Simple Description:
Marcy is an accountant and just not happy with the boring job. He friend Sadie tells here there is a store front available next to her cafee in the small town of Tallulah Falls, Oregon and Marcy decides to open up an embroidery shop. The first day the shop is open Marcy has a grand opening party. The next day, she finds a man dead in her store room. The man is the prviouse owner of this space and at the party he kept trying to tell Marcy something. He appeared drunk and gave her the creeps, so she avoided him. Now, because of this and the fact that he tried to write something on the storeroom wall, she is convinced he was murdered and feels bad she didn't pay more attention to him.
The man's widow accuses Marcy of killing her husband. The partial message the man left points the blame on somebody having to do with Four Square Development. The Development was shady and 4 people are in jail because of it. However, it would appear that not everybody involved in the development was caught and somebody feels the need to protect themselves.
Soon, not only does Marcy have to deal with a man having been found dead in her store room, but her shop's landlord is also found dead. Marcy believes the two deaths are linked. The chief of police thinks both deaths were random and not connected, so of course Marcy digs around to try and flush out the real killer.
Now what you really want to know....my thoughts:
First, let me apologize for reviewing a book that isn't even out yet. I was contacted by the author to review this book and I gladly accepted since I enjoyed her book,
Murder Takes the Cake
. Then, I was sent a copy of this book from the publisher to review. When I went looking for the next book to read this one was fresh in my mind and I grabbed. Usually when something like this happens, I try to wait until the month the book is published to read it and review it.
Ok..now about my thoughts. One of the things that interested me about this cozy is that Marcy has a dog named Angus. Angus is an
Irish Wolfhound
. If you have followed my blog for awhile, you know I love big dogs. I've never had an Irish Wolfhound but because of their size I know what the breed is and would love to see one in person. So, right away the dog has my interest. haha! I'm sure we've all read books due to something even more insignificant than that right? Secondly, I've done some very detail oriented cross-stitch projects in my time. I haven't done any in a long time, but still have all my supplies and kits. So the idea of an embroidery store has my interest. I know I could get lost in one.
Now, I kinda feel about this book almost the same way I feel about the other book I read by this author. I thought it was good, but for some reason the writing makes me feel like the author is new at this and needs more polishing. This doesn't mean I didn't like it, just means it's something I notice and keeps me from liking it more than I did. This is the first in a series, so I also have to keep in mind that we are getting to know the characters and getting a feel for the town and the character interactions.
I do like several of the characters. I feel Marcy and Sadie have a good friendship, even if they do seem to bicker more than I would expect. I'm interested to see how their relationship grows in future books. I like that there are two possible love interests for Marcy. One owns the Brew Crew across the street, the other is a cop. It will be fun to see how those two play out in future books too.
Overall, I did like the book. I thought it was a good cozy and I do recommend it to cozy mystery fans. I'll be keeping my eye out for future books in this series.
Thanks to the author, Gayle Trent, and Megan, from Penguin, for providing this book for review.