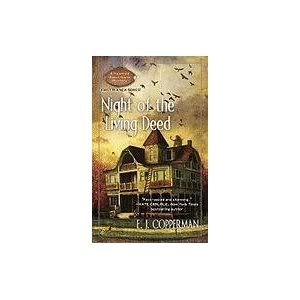 #1 Haunted Guesthouse Mystery
Copyright: 2010
Publisher: Berkley Prime Crime (Penguin)
Genre: mystery
Pages: 325
Challenges: thriller and suspense
Author's
Website
My rating: 3.5/5
Simple Description:
Alison Kerby has recently bought a 100 year old house in a small town on the Jersey Shore. She has moved in with her 9 year old daughter and has plans to renovate it and then open it as a guest house. While working on the house one day Alison hits her head and has a concussion. When she comes to, she can see ghosts. To be more exact, she can see two ghosts that haunt her house. At first she thinks she's imaging it but after several days the ghosts won't go away and they are talking to her.
The ghosts are the two people who were found dead in her house almost a year ago. One, Maxie, was the owner and the other, Paul, was a private investigator helping Maxie with some threats she was getting. They want Alison to figure out who murdered them, even though the cops say it was suicide, and Maxie won't stop sabotaging the remodeling until Alison agree's to it. When Alison starts getting threatening messages herself, she finally agree's to look into their murder with Paul's help.
Now what you really want to know....my thoughts:
I actually thought this was a great book in a new series. I loved that it was different from other cozies out there. Alison doesn't readily snoop and investigate a murder, she really doesn't want to but finally agree's in order to get the ghosts to leave her alone. This was both different and refreshing for a main character in a cozy series.
I also liked how Alison tried to deal with these two ghosts when others were around. She didn't want to tell people she could see ghosts because she didn't want them to think she was off her rockers. There were several instances where this was fun and I liked how she handled it.
There were some issues with this book, things I hope are maybe just part of a first book jitters and won't be in the 2nd book in the series. I wish I had been able to bookmark some examples so I could show you, but I didn't. The main character did things like constantly remind the reader that she doesn't cook. Ok..I got it once, I don't need to be reminded of this several times. There were also times when the main character would just talk/think something that I didn't think had any relevance to the story itself. Maybe it was supposed to make her seem like your average person, but it just annoyed me a bit. Now, I have to be honest and say that my emotions/moods are going up and down lately. So it could also be that I was in a different mood when reading this one. I think we all know that sometimes our moods effect how well we like or don't like a book sometimes. It could be that things that annoyed me a bit while reading this are things that haven't annoyed me in the past and won't annoy me in the future.
I can honestly say, though, that I did really enjoy this book and you can bet I'll read the 2nd in the series.
I really like the idea of this one. I like the idea of the two ghosts who can't leave the property but want to know what happened to them. I was wondering how that would work towards future books in the series and it's revealed to us in the end. I definitely recommend this one to others, especially if you already like a good cozy mystery.
Thanks to the publisher for providing this book in hopes of a review.