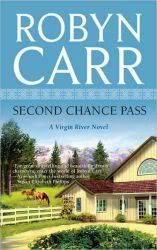 #5 Virgin River series
Copyright: 2009
Publisher: Mira
Genre: fiction
Pages: 389
Author's
Website
My rating: 4/5
Simple Description:
I probably sound like a broken record but the books in this series are hard to describe because you really need to read them in order. I can't say too much or I give things away. I also feel like I can't do a good job describing it because you really do need to read the others to understand how everyone's life is entwined with the town and all the characters you meet.
This one focuses on Paul and Vanni. While we met them in the previous book in the series, in this one we see them each have feelings for each other but not sure t's the right time to act on them, and mess things up by not talking about it.
Mel and Paige both became pregnant in the last book and in this one they have their kids.
We also get more info on some of the secondary characters, so it's fun to guess who the next book will focus on....until you get impatient and read the back cover of the next book because you need to know right away.
There are also some other major events that happen in this one. Ricky and Tom each start off on a new path in life. The town is in danger. The mysterious pot grower who might not be a pot grower shows up to help at the last minute, again.
Now what you really want to know....my thoughts:
I can't help it, I just love this series. Sure, there are things that bother me about each book, such as the use of baby and honey so much. But it's really easy to overlook that because you are so engrossed in the characters lives. You can't help but share their joy and their sadness. The author does a good job with each series because while the focus is usually on two characters and a new romance, the two characters are always familiar to us because they were introduced in previous books. Plus, this small town is always coming to together to help out so we still get to visit with our favorite characters from the previous books.
Never fear...I'll be continuing with this series. I just can't stop!
This book is part of my collection and was either bought or given to me.