Yesterday was the annual YMCA used bookfair. This is a huge event, they advertise over 1 million books available. How could I possibly resist? This is actually only the 2nd year I've attended it. My Mom was in town and so I brought her with me. She did bring a bag, but only one, and it wasn't that big. She says she'll be better prepared for next year. I had to go out to the car and bring in 2 more bags because we filled the bags I initially brought in. haha! All in all it was a successful trip. In fact, so successful, I need to list the books and hurry up and put them in my library before the husband wakes up and see's how many I actually bought. (update: Husband did wake up and come into the pc room while I was typing this up and he saw all the books and asked where I got them. I said the book fair yesterday, and he was actually interested in looking at some. He commented on the Historian - he's heard about it, and he wanted to know what another one was. He didn't seem too interested in any others and is now playing video games. lol I'm just thankful he didn't ask how much I spent or comment on the amount of books.)
I can't remember exactly what my Mom bought but I know she got books 1-7 of the Women's Murder Club. Neither one of us has read any of these books, but we have both heard they are good. When we were looking at a couple of them, we had several woman tell us how great they were. So, my Mom decided to go ahead and get the first couple. Then we kept seeing more and more. We didn't see any copies of 8 & 9, but never fear, we are confident we'll find them next year at this event. She got all in hardback, each was in like new condition, and the most she paid was $3 per book. Sweet! She also got a lot of Mariah Stewart paperbacks. I had mentioned that I liked the books I've read by the author, although I haven't read many. We saw several paperbacks so she got all the ones we found that were in good condition. At only $0.50 per paperback, it was worth getting them. If she ends up not liking them, we can always donate or sell them. I can't remember what else she got though.
Now on to the fun part! What did yours truly purchase? Way too many would be my husbands response.
In fact, because I bought so many, I'm going to share the titles in groups.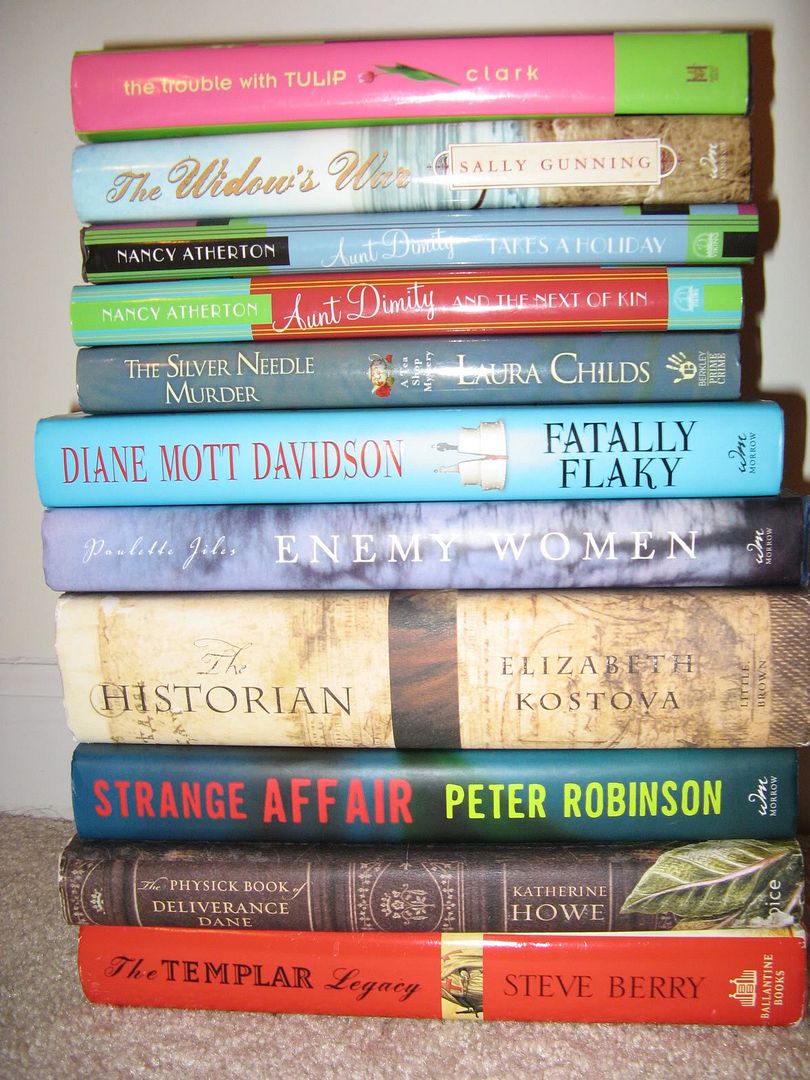 Hardcovers
The following 4 are books in series that I currently read but didn't have - of course I couldn't pass them up.
Fatally Flaky by Diane Mott Davidson ($5)
Aunt Dimity Takes a Holiday by Nancy Atherton ($2)
Aunt Dimity and the Next of Kin by Nancy Atherton ($2)
The Silver Needle Murder by Laura Childs ($3)
The Trouble with Tulip by Mindy Starns Clark ($2) -
never read anything by this author but it sounded cute
Enemy Women by Paulette Jiles ($1) -
never heard of this one but it sounds interesting. It's a civil war book and the main character is from Southern Missouri and ends up in a prison in St. Louis (where I live)
The Historian by Elizabeth Kostova ($3) -
reading this with a friend later this month, rented the audio version but thought it would be good to have a print copy too
Strange Affair by Peter Robinson ($1) -
never read anything by this author, not sure I've heard of him but it's a signed first edition and figured for $1, if I didn't like it I could always sell it
The Physick Book of Deliverance Dane by Katherine Howe ($4) -
I know I've read several reviews of this one on other blogs, for the life of me I couldn't remember if people like it or not though and if I put it on my wish list. haha
The Templar Legacy by Steve Berry ($2) -
my sister and her husband love his books, figured it was time I tried them myself
The Widow's War by Sally Gunning $2)
Young Adult
They priced the young adult $1.25 per inch. I spent more on these than I would have liked (if they had counted the paperbacks as only $0.50 like the rest it would have been a lot cheaper) but think I got some great finds. I spent $12.50 for all of these.
Tempted by P.C. Cast + Kristin Cast (hardcover)
How to Be Popular by Meg Cabot (hardcover)
Fever 1793 by Laurie Halse Anderson (trade)
I'm most excited about this one. I found it right away and immediately texted a friend because I'm scheduled to buddy read it with her and another friend in November. It was meant to be!
I Am the Messenger by Markus Zusak (trade)
How to Speak Dragonese by Hiccup Horrendous Haddack III translated by Cressida Cowell (hardback)
Don't believe I have ever heard of this one but it looks cute
Ghosthunts and the Incredibly Revolting Ghost! by Cornelia Funke(hardcover)
Ghosthunts and the Gruesome Invincible Lightning Ghost! by Cornelie Funke(hardcover) -
I haven't read any of these books by Funke but they looked cute and thought my nephews or future kids might like
The 39 Clues - book 2 - One False Note by Gordon Korman (hardcover) - even had the 6 cards inside!
The 39 Clues - book 4 - Beyond the Grave by Jude Watson (hardcover) -
I haven't read, nor do I own, any of the 39 clues books but I've heard they are good and figured the nephews or my future kids might like them. These are hardcover and in excellent condition, obviously another pair I couldn't pass up
one of those hideous books where the mother dies by Sonya Sones (paperback)
Freaky Green Eyes by Joyce Carol Oats (paperback) -
haven't heard anything about this one but I like several of her adult books, felt this one was worth a try
The Black Cauldron by Lloyd Alexander (paperback) -
never heard of this one but it's a Newberry Honor book so I felt it was worth it
A Voice From the Border by Pamela Smith Hill (paperback) -
never heard of this one but it's another civil war book that takes place in Missouri
Dear America - A Line in the Sand - The Alamo Diary of Lucinda Lawrence (hardcover) -
I've never heard of this one, sounds like Dear America is a series? I'll have to look it up. It's in great condition and had a blue ribbon bookmark attached
I also bought the following by Lemony Snicket. They are all part of the A Series of Unfortunate Events. I listened to all but #13 on audio and really enjoyed them. These three were all hardbacks in excellent condition and once again I couldn't pass them up because I thought the nephews and future kids could read them. I'm hoping that I'll eventually find the rest of the series in hardback at the two huge used book fairs STL has every year.
#1 - The Bad Beginning
#3 - The Wide Window
#6 - The Ersatz Elevator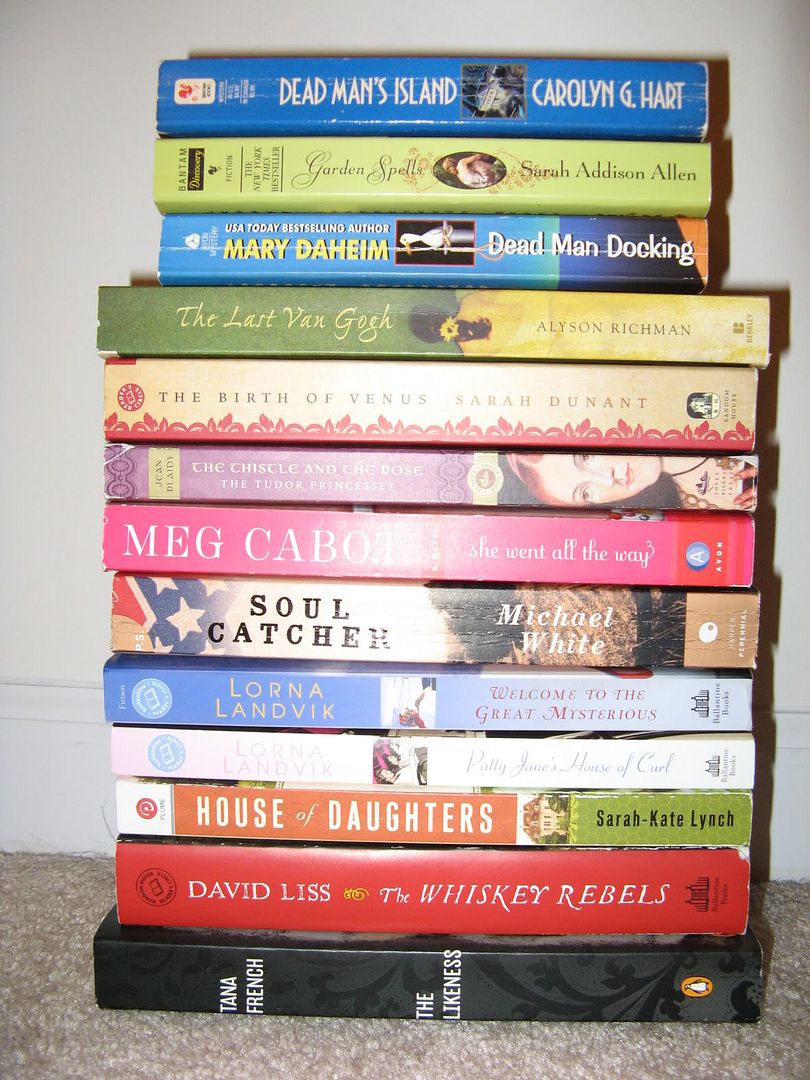 Paperbacks
The following are all paperbacks, mostly trade paperback size. While paperbacks were $0.50 unless otherwise marked, most of the trade paperbacks were more expensive because of their size. Also, my Mom and I couldn't find any tables of paperbacks marked fiction other than the larger sized table. How weird is that right? They had several mystery tables that were mass market paperbacks but no fiction.
Dead Man's Island by Carolyn G. Hart ($0.50)
Dead Man Docking by Mary Daheim ($0.50)
Garden Spells by Sarah Addison Allen ($0.50) -
this was another that I was super excited to find since I've been wanting to read something by this author for awhile
The Thistle and the Rose by Jean Plaidy ($1)
The Birth of Venus by Sarah Dunant ($2)
The funny thing is that this book had 3 tickets in it, from 2007, two for the London Underground and 1 for Shakespeare's Glove
The Last Van Gogh by Alyson Richman ($0.50) -
I haven't read anything by this author but the book sounded good
She Went All the Way by Meg Cabot ($2)
Soul Catcher by Michael White ($2) -
This one was familiar, not sure if I've just seen it at the bookstore or read some reviews online.
Welcome to the Great Mytserious by Lorna Landvik ($1)
Patty Jane's House of Curl by Lorna Landvik ($0.50)
House of Daughters by Sarah-Kate Lunch ($2) -
This one sounded familiar too, but not sure why, sounds good though.
The Whiskey Rebels by David Liss ($3) -
I was excited about finding this one too because I was recently looking at it at the bookstore and wanting it
The Likeness by Tana French ($2)
I spent $63.50 but walked away with a lot of great finds and I'm excited by the amount of books I was able to get for that price. My Mom and I spent 4 hours at the book fair and didn't even get to all the tables. My Mom mentioned maybe going back today. haha! Then she found out that on Wednesday you can fill a box with books and the entire box is only $10, she's tempted to go again. I wish I could go. In fact, she tried to convince me to take off work and go.