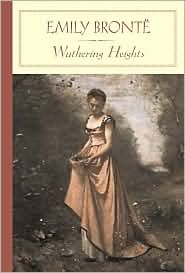 Copyright: 1939 (my copy)
Publisher: Triangle Books
Genre: fiction/classic
Pages: 390
Challenges: Historical
My rating: 2/5
Seeing as how this one is a classic and most have either read this book or heard of it, I'm not going to follow my normal review format. I'm going to refrain from giving a description of this book.
I've said it before and I'll say it agian, I'm really not much of a classics persons. Which probably leads you to ask yourself "If you don't like classics, why did yo read this one?" Well, here's the thing. I don't really like any of the classics I've read, yet so many rave about classics in general that I feel like I'm missing out by not having read others. When one of my friends said she was reading Wuthering Heights as a buddy read with another group, I decided to read it along with her. I thought that maybe, just maybe, if we read it together and discussed it, I might actually like it. Let me say right now that I just don't get why so many seem to like this one. haha! As you can see, this book did not change my opinion/view of classics.
I never really connected with any of the characters. I felt they were mostly mean, annoying, and spoiled. Maybe I'm not supposed to connect with them, maybe my views are exactly the views I'm supposed to have. I'm not sure, but I do know it didn't make me want to read more.
This book really didn't do anything for me. zip zilch nada.
I was thinking I would browse the Wuthering Heights info at sparknotes to get more of an understand of what I was supposed to pick up on while reading this one, but alas, I really don't have any desire to.
How about you, have you read Wuthering Heights? Did you like it? If so...inquiring minds what to know what you liked about it? I didn't like anything..what did I miss?
This book is part of my collection and was either bought or given to me.