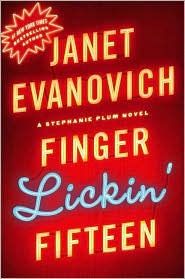 #15 Stephanie Plum
Copyright: 2009
Publisher: St. Martin's Press
Genre: Mystery
Pages: Audio
Challenges: Stephanie Plum Challenge, Audio book Challenge
Author's
Website
My rating: 3/5
Simple Description:
Things are the same with Stephanie Plum and friends. If you have read any of these books, then you have an idea of what's happening in this one. In this one, Ranger hires Stephanie to work for him and discretely check out some employee's. Several of the houses that are protected by his security company have been burglarized and he thinks it's an inside job, but not sure who it could be. Stephanie and Joe are on the outs again, but of course he still makes many appearances in this book.
LuLu's life is in danger. She witnessed a beheading and now the two guys who did the beheading are trying to kill her before she figures out who they are and tells the police.
LuLu and Grandma also try to create their own BBQ recipe. As you can imagine, this doesn't happen easily or without incident.
Now what you really want to know....my thoughts:
I'm going to sound like a broken record, but once again I'll mention that if I was reading these books I wouldn't have continued with the series. However I'm listening to these books and I find them a lot of fun. They are cute, have some funny moments, and perfect for when I'm in the car and my mind tends to wonder and not always pay attention to what I'm listening to.
Now, that being said, Stephanie had 3 cars ruined due to fire in this book. I mean really. 3? Evanovich, I think you are going a bit too far with this. I also payed more attention to how Stephanie still hasn't learned how to successfully do her job and always needs a man to help her out and clean up her mess. I mean..enough is enough. These things are beginning to bother me again. These are the reasons I stopped reading the series awhile ago...it was so repetitive. Then I decided to try one on audio and loved it, and have (almost) finished the series that way. I have #16 on it's way to me via the library, I have her newest on hold in audio. I'm not sure I'll continue with the series after this. Part of what has me saying I probably won't continue after I listen to #16 is that I think Evanovich isn't really trying anymore. It's the same thing story after story. We need change! We need Stephanie to have an over-haul!
That being said..yes the audio is great. I definitely recommend this series in the audio format, it's a lot more fun than actually reading the books.
Lorelei King
is the narrator. She does a fantastic job. She's the narrator of a lot of books, several authors that I like, so I'll be checking to see if my books has more of the books she has narrated.
This audio book was rented from my local library.