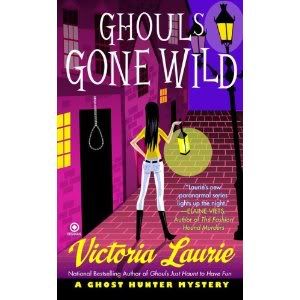 #4 Ghost Hunter Mysteries
Copyright: 2010
Publisher: Obsidian
Genre: mystery
Pages: 336
Author's
Website
My rating: 4.5/5
Simple Description:
M.J., Gillie, and Heath are sent to Scotland to try investigate one of the most haunted area's in Europe for a new television show. Here they meet one of the strongest ghosts they have ever encountered. The Witch and her family were killed by several individuals when plague hit the town and her family wasn't effected. The witch comes back every 100 years to take revenge by killing decedents of those original killers. The witch shows up early this time and we find out that Gillie is one of the decedents and a target for the witch. M. J. and Heath must figure out how to find the witch's portal and keep her from coming back to do harm while at the same time keeping Gillie, and themselves, safe.
Now what you really want to know....my thoughts:
I loved this book. I love this series actually. It's such a fun read. I do like paranormal reads, so of course this series sparks my interest. However this series is a favorite because I love the characters. M.J. and Gillie's relationship is so fun. They have been friends forever and while they each annoy the other at time, they always have their back. Heath is a newcomer, he showed up in the last book and I'm glad he seems to be a regular character now. I love that he has a Native American background and that it plays a role in the books. Plus, he has great chemistry with M.J. too.
This is the perfect series if you want a light mystery with a bit of spooky thrown in.
This book is part of my collection and was either bought or given to me.