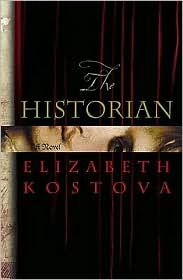 Copyright: 2005
Publisher: Little Brown
Genre: fiction
Pages: audio
Challenges: audio, Year of the Historical
Author's
Website
My rating: 3.5/5
Simple Description:
It all started with the narrator finding a book in her father's study. It was old and had a dragon on it. Thus begins the story of the search for Dracula's tomb. There are three different stories that are being woven in and out of each other as this story progresses. In present day, which is really 1972, we get the story of how the narrator lives with her father and he tells her the story of his earlier research regarding Dracula. Then she goes on a journey herself.
Another story is how the narrator's teacher began the search in the 1930's. We learn about what he found, what dangers occurred, and why he stopped searching.
The third story is of the narrator's father and how he took up the search for Dracula with the woman who would later become his wife, and the narrator's mother.
The story is rich in historical detail. We follow the individuals as they journey to different parts of Europe searching for the trial of what happened to Vlad after he was killed. They do believe he is a vampire, it's not just a story.
Now what you really want to know....my thoughts:
This was a really hard book to describe! It's hard to go into details because this is such a detail oriented book. There are so many places and dates and names.
I enjoyed the book, overall. The historical figure of Vlad The Impaler interests me, so it's a wonder I waited this long to read the book. I found it fascinating that these historians were searching for Vlad and that they truly believed he was a vampire, I mean the clues did support that after all. So right away the subject matter held my interest.
I thought the writing was great. There were several story lines going on at the same time but I didn't find it confusing at all. The author did a great job of keeping them separate. There was also just enough intrigue to keep me going.
The thing is, I'm not so sure this book is best for audio. I found that while the story lines didn't confuse me,sometimes all the names and places did. I think if I had seen the names of the people and places, it would have helped. I also found my mind wondering at times. I think this was partly the story and partly my mood at the time. I say the story because, once again, there were so many names, dates, and places. I think any of us would find our mind wondering at times due to that. Unfortunately I think it caused me to miss out on things and several times I had to go back a track and listen to things again just to clarify things.
The narrators themselves did an awesome job though. It worked very well that there were several of them, it helped keep the different characters separate. My only issue is that sometimes in the beginning of the novel, the transition between narrators and stories wasn't as smooth as I felt it could have been.
The narrators were Joanne Whalley, Dennis Boutsikaris, Rosalyn Landor, Martin Jarvis, Robin Atkin Downes, and Jim Ward.
While I do recommend the book, I do recommend you consider whether the audio version would be a good fit for you before you rent/buy it. Sometimes I think the detail heavy books are best read in print form, but of course that's just my take on it.
Oh..and if you noticed I am using this for the Year of the Historical challenge and feel it's not really a historical, let me clarify why I did. Sure..the present day story takes place in 1972, even though that's 40 years ago I wouldn't consider it historical. The other stories take place later than that but still in the 1900's. Normally I wouldn't condisider that a historical either. However, there is a lot of detail about what happened when Vlad was still alive. Due to all the details regarding that, it read more like a historical for me and it felt like a historical. I also know that some count WWII novels as historical and since the other stories take place close to this, I figured I was ok.
This audio book was rented from my local library, although I do own a copy of the book.