Weekend Cooking

is open to anyone who has any kind of food-related post to share: Book (novel, nonfiction) reviews, cookbook reviews, movie reviews, recipes, random thoughts, gadgets, fabulous quotations, photographs. If your post is even vaguely foodie, feel free to grab the button and link up anytime over the weekend. Please link to your specific post, not your blog's home page. For more information, see the welcome post.
This week I thought I would share my recipe for making crescent rolls. Husband and I are bread junkies. We love to have bread with dinner almost every night. Once I was given this recipe by a friend, it became so much easier for us. Now, instead of buying crescent rolls and having to make all of them and eating them all, we only eat one or two each with dinner. It's also less expensive than buying frozen rolls. I always make a double batch and then freeze them. When Husband makes dinner, he takes 3 out of the freezer and heats them up in the oven. That's it! Incredibly simple! The rolls always taste fresh when we eat them. I don't know if that's just because they freeze well or because we go through them so fast they don't have time to get stale. Either way, it tastes like fresh, homemade rolls even when coming from the freezer.
In a saucepan heat the milk and butter until very warm.
In a large mixing bowl, mix 1 cup flour, dry yeast, salt and sugar. Add the milk and butter mixture once warm. Add the egg.
With mixer, beat for 2 minutes. Stir in the remaining 2 - 2 1/4 cup flour to form a stiff dough.
Cover and let rise until it doubles in size, about 60-90 minutes.
Once doubled in size, turn out onto a floured surface. Toss to coat well with flour. Kneed a few times or until no longer sticky. Roll dough to a 15in circle and then brush with melted butter. Cut into 16 wedges. With wide end, roll up each wedge toward the point. Place point side down on greased baking sheet.
Bake in a pre-heated 400 degree oven for 15-20 min or until golden brown.
Tips and tricks and things I do differently:
**** I brush with melted butter as per the instructions, then once they are rolled and on the baking sheet I brush butter on them again.
**** In an effort to eat healthier I wanted to use wheat flour but Husband refuses because he doesn't like wheat. So, my little trick is to put in 1 cup of white whole wheat and the rest I use normal white flour. Eventually I would like to add more but that's going to be slow going so he doesn't notice a change in taste.
**** Rolling dough out on a counter top can be incredibly messy. Here are a couple tips to try and keep mess to a minimum. If you have a non-granite counter top (at least this works with Formica or whatever the normal counter top used to be, I have no idea if it works with other stone counter tops) you can wet the counter top and then put a piece of wax paper down. Since it's wet the wax paper will stick to the counter top and you can roll out the dough on top of it and clean up is so much easier. I have granite and this does not work, the wax paper doesn't stick. If this is the same for you, you can spray the counter top with Pam or some other cooking spray. This isn't perfect but trust me when I say it does work a lot better for clean up.
**** Try to let your eggs get to room temperature before baking with them. This applies to cakes, cookies, omelets, etc.
**** Earlier this spring/summer I made 3 batches where the dough didn't rise (of course we still baked them and ate them but they weren't as good.) Then I made them again and decided to cover them (I always use glade press and seal) and put them in the un-finished section of our basement while I worked out. An hour later, the dough had risen. This batch was the most fluffy and yummy tasting I have ever made. I just made these yesterday and did these thing. Still incredibly fluffy but not like that first one.
**** I use a pizza cutter to cut my dough. It's incredibly easy and because I have granite I'm not worried about scratching the counter top. I cut it in half one way, then half the next way. This gives me 4 even (haha..yeah right) sections. I then cut each section in half and then each of those sections in half again.
As you can see, I never roll mine in a perfect circle. I applaud the person that can, it seems to be something out of my grasp.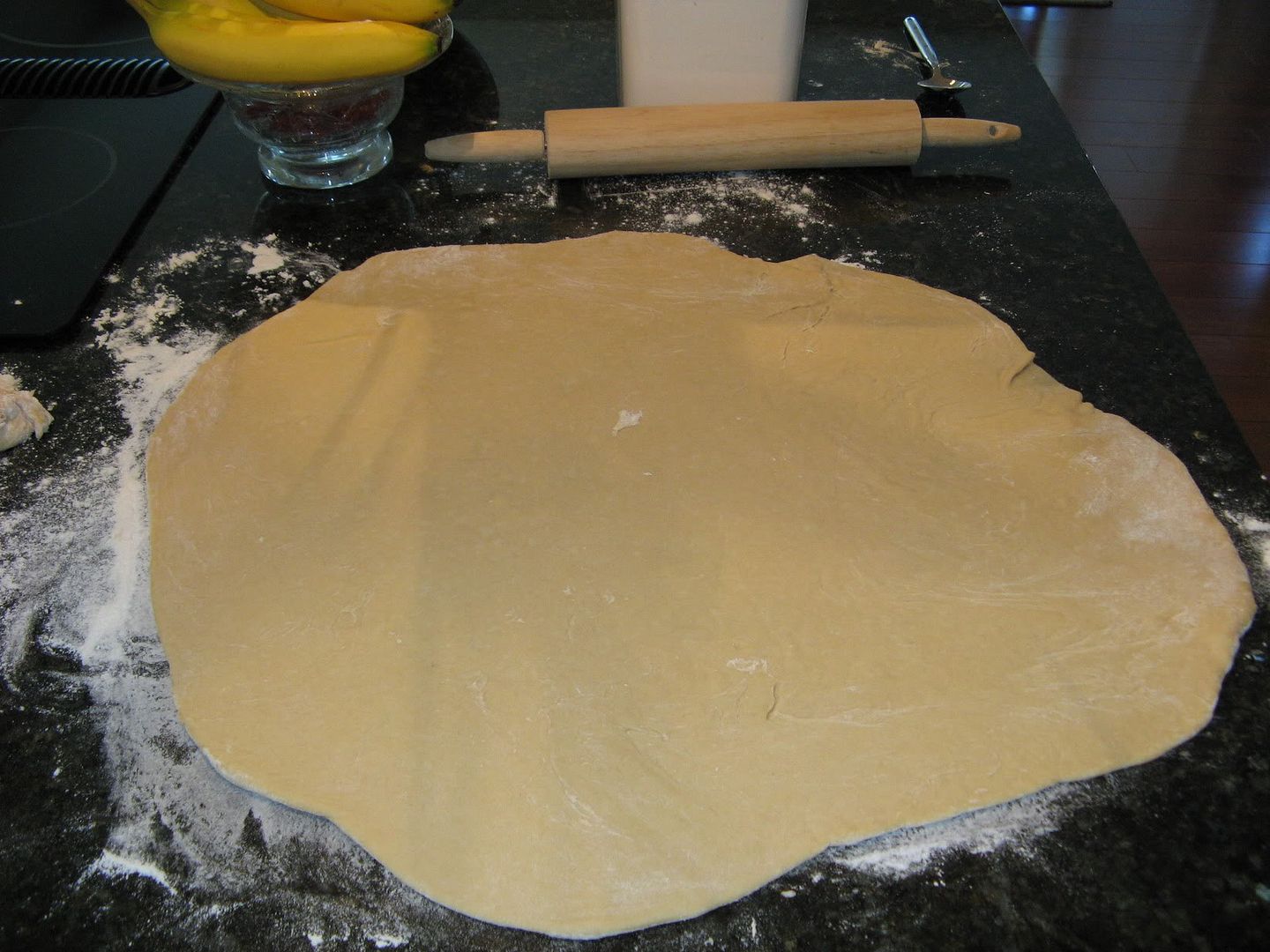 I also have failed to cut mine in perfect sizes, I always have some that are huge, some that are itty bitty, and some that are perfect.