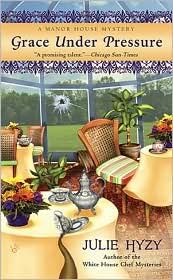 #1 Manor of Murder
Copyright: 2010
Publisher: Penguin
Genre: Mystery
Pages: 310
Author's
Website
My rating: 3.5/5
Simple Description:
Grace is the assistant curator at Marshfield Manor. Marshfield Manor is a huge estate. It's privatly owned by the wealthiest family in the town of Emberstown. Well, in the whole area anyway. There is a hotel on the property and the mansion is basically a museum that guests to walk through. Although, there are several areas that are private due to the family still living there. Bennett Marshfield is the only direct living relative left. He has been getting threatening letters however he thinks nothing of it. People are constantly trying to get after the Marshfield millions. However everyone soon realizes just how real the threats are when Abe, the current curator, is found murdered. The police are brought in to help but Grace feels it's her duty to try and figure out who the murderer is too. It is her place of employment after all.
Now what you really want to know....my thoughts:
I thought this was a good start to a new series. Grace was a very likable character. We even have the required unlikeable character in her assistant/receptionist. Luckily while we might not like the assistant too much, we don't hate her. I can also see where she could begin to grow on readers as the series continues.
The idea of Grace trying to figure out who the murder is was actually believable. She does give the police the clues, she doesn't put herself in dangerous situations. She does some investigation work, but it's more just going over records and asking questions about what happened that night.
I have to admit that sometimes there were parts where things were going on in Grace's life that seemed to take away from the story for me. I'm cool with there being one or two but there seemed to be at least 4 or 5 other things going on that we got info on. I think that was just a bit too much for a first book. Maybe it's just me though, Ive been in a bit of a funk and feel like these things bothered me a bit while reading the book but had I been in a better mood they wouldn't have.
I haven't read any of the authors other works but I'll definitely keep her in mind. I'll also plan on reading the 2nd in this series whenever it's published.
Thanks to Penguin for providing this book for review.