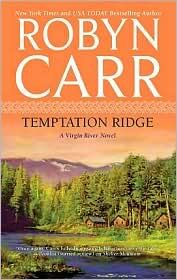 This morning I was away early enough (before 5am..ugh) to go for a run but am currently resting my leg since it's hurting, so instead I took a bath and read. Perfect start to a new work day. So I got in the tub to soak and grabbed Temptation Ridge by
Robyn Carr
since it's my current read. I'm reading along, happy as a clam, when something happens in the book that caused me to get emotional. Emotional as in I was crying a bit and sniffling and put the book down for a minute.
The
Virgin River series
by Robyn Carr often has me doing this. To met this is a sign of a great book/series. I'm so invested in the characters and feel so close to them, that when things happen I feel the same emotions they do. I often find myself smiling while reading these books, sometimes I'm also sniffling and reaching for the tissues.
There are some tough topics in these books, one in particular that is hard for me to read. Yet, I keep coming back for more. I just adore these books. I can't tell you that the writing is the best out there, I find fault sometimes with it, but the characters make the book. You want to move to Virgin River and go to Jack's bar for dinner. You want to talk to Mel and the other ladies and become instant friends with them. You want to be surrounded by all these men that would protect you in a heartbeat.
It's books like these that make me fall in love with reading all over again.
Do you have a book like this? Or a series that does this for you?