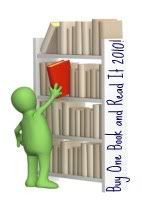 I officially completed this challenge too. Woohoo! The Buy 1 Book and Read it challenge for 2010 is hosted by
My Friend Amy
. I selection option 3 which was to buy 12 books and read them. I did buy a lot more than 12, but at least I read 12 of them! haha! I'm happy that most of the books I did buy were from used book fairs, although unhappy that those are most that have gone unread. Most of the books I bought new or used online I have read or am scheduled to read within the next several months.
Honestly, I have to admit that I think this year I have bought less than in years passed. I'm happy because that means I read more of what I already owned, but at the same time sad because I do like to support authors by buying their books.
Here's a list of the books I read for this challenge, the reviews can be found
HERE
.
The Cougar Club by Susan McBride
The Things They Carried by Tim O'Brien
Paco's Story by Larry Heinemann
One Wore Blue by Heather Graham
20th Century Ghosts by Joe Hill
The Excalibur Murders by J.M.C. Blair
The Barracks Thief by Tobias Wolff
Keeping the Moon by Sarah Dessen
Sprinkle With Murder by Jenn McKinley
Bone Crossed by Patricia Briggs
A Match Made in Highschool
Hour Game by David Baldacci