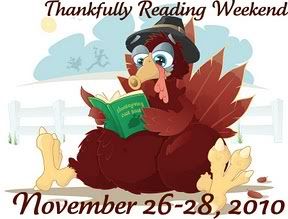 Thankfully Reading Weekend is well underway in my household. I woke up a little before 6 am and instead of getting up to do stuff around the house, I stayed in bed to read. I read until I finished the book I was reading, until around 8:30. woohoo! I've already finished one book! I finished Pretty Little Things by Jilliane Hoffman. I really enjoyed it.
I then went for a very short run, in preparation for my 10 mile race tomorrow, and then showered and read a bit more. I think decorated the house and tree with Christmas decorations. I started to listen to my current audio book while doing this but the husband wanted to watch tv so I turned it off.
I've just finished lunch and after I type up this post I'm off to start transferring files from one computer to another, and of course I'll be reading while the pc's are working hard.
I asked Husband what he was doing today and he didn't know. I said..were you wanting to go out, are you going to be bored later? He said yeah, but this was my reading weekend so I didn't want to go out. The nice, cough cough, wife that I am, I said I would go out later with him if he wanted. That won me a big grin. lol!
I'll update again when I finish another book. I'm currently reading Promise Me by Richard Paul Evans. His books are usually pretty fast reads for me so I'm hoping to finish it today or tomorrow.
If you are participating in this weekend, how are you doing?