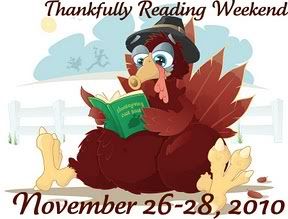 This was my first jump into a read-a-thon or reading weekend. I didn't come into it with any sort of expectations. Being brand new with it, I just wanted to see what would happen and how much I could read.
I'm excited with the results! Friday I was able to read a tad more than I thought I would. I knew I would have some down time but also knew I would be busy decorating the house. Fortunately, it didn't take me as long to decorate the house this year as it has in the past. Mostly this is because my sister and her husband both have to work Christmas so she'll be dropping off my nephew Christmas morning and Husband and I will be in charge for awhile. This means I didn't want to have a lot of things out that he could find and play with.
Saturday I had hoped to read a more than I did, although I knew I wouldn't be able to read much.
Today, I was able to read as much as I wanted to! I ended up getting up earlier than I had the previous two days. I knew there was some stuff I had been needed to do on the pc so I sat down to watch Eat, Pray, Love and do that. Plus, heck, that movie kinda counts since it is adapted from a book right?
Then I ended up working out with Husband before finally getting back into bed close to 1pm. I finished the book I was reading a little before 5pm. I call that success.
I completed 3 books this weekend! I'm so happy with that! I finished Pretty Little Liars, which I had started earlier in the week. I started and finished Promise Me by Richard Paul Evans. I had assumed I would finish this one since his books are usually fast reads for me. I think started and finished Destined For an Early Grave by Jeaniene Frost. I wasn't sure I would get this one finished since it's over 300 pages, but so glad I did! Reviews for all three will be coming this week.
Fingers crossed there will be a Thankfully Reading Weekend 2011, because if there is I would love to join in on the fun.
Now I'm off to my sisters for dinner. Husband is already over there watching the football game so I might as well head over and eat dinner so I don't have to cook anything.