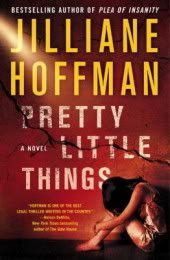 Copyright: 2010
Publisher: Vanguard Press
Genre: Mystery
Pages: 358
Author's
Website
My rating: 4/5
Simple Description:
FDLE Special Agent Bobby Dees has a tough job. His expertise is searching for missing children. It would be a tough job for anybody, but for Dees it's been especially tough for the last year. His 16 year old daughter went missing a year ago, assumed to be a runaway but there has been a lot of searching and no clues. When 13 year old Lainey Emerson goes missing, her Mother waits a couple days to report it. At first it all seems like this is a classic case of a runaway, but Dees thinks differently and over the years he has learned to trust his gut.
The case gets even more intense when the killer starts to contact a local news reporter and includes Dee's name. It seems the killer is reaching out to Dees and taunting him, leaving clues as to where to find the next body but not making it easy. It seems like the killer didn't just take Lainey, he's taken several runaways before her.
Things go from bad to worse when it seems like his daughter could possibly be a victim of this killer.
Now what you really want to know....my thoughts:
I thought this was a great book! The storyline kept my interest almost from the very beginning. There is so much going on that you want to know the answer too. Will Dees find his daughter, will it having something to do with the serial killer? Will he find Lainey before she is killed by this person?
The story is interesting because we get it from several different view points. Dees is a main character so we do get a lot of the story from his view point. We get the story from the killers view, although his identity isn't revealed until the very end. We also get parts of the story from Lainey's view.
Speaking of the killer...I didn't have this one figured out at all! It kept me guessing until the very end when Dees figured it out.
The subject matter could be hard for some, it does deal with pedophiles praying on young girls via the internet. It's one of those topics that for me, I've read a lot about, so to read fiction about it wasn't too hard for me because I distance myself from it, but I know it could be hard for a lot of people.
Thanks to Anna with FSB for providing this book for review.