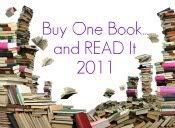 How could I possibly pass up this one again? I do believe she's pointing a finger at me with level 2. Ok, I think she's pointing a finger at a lot of us. lol!
My Friend Amy
is hosting this
challenge
again and here are the rules:
Start Date:
January 1st, 2011
End Date:
December 31st, 2011
There are two levels to this challenge:
1) Buy One Book and Read It.
This level is good for people who don't read often but think that would like to read more. It's also good for people who don't buy books. If you don't read much or don't buy many books, this is your level.
2) Level Two--Buy one book and read it every month
You don't have to buy a book in January and read it in January, but you must buy 12 books that you also go on to read during the year. This level is ideal for book bloggers notorious for the buying part, but not so much the reading part.
Rules
1) The book you read must be for pleasure. It cannot be a book you are reading to your children, for work, for research. This is all about fun.
2) The book(s) can be print or electronic. Unless you are unable to read print, audiobooks don't count towards this challenge.
3) Make sure to add your links to the Mister Linky that will go up by January 1st.