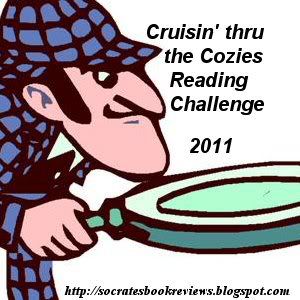 While I do host the Cozy Mystery Challenge annually from April - September, that doesn't mean I can't sign up for another cozy challenge does it? This challenge goes all year round, so it is a bit different after-all.
Yvonne from Socrate's Book Reviews is hosting the Crusin' Through the Cozies Challenge and here are the details:
1. Choose the level you wish to participate:

Level 1 - Snoop - Read 1-6 books
Level 2 - Investigator - Reading 7-12 books
Level 3 - Super Sleuth - Read 13 or more books

2. You don't have to choose your books in advance. If you do, you can change your list at any time during the year. Books can overlap with other challenges.

3. Books can be in any format - paper, audio, ebooks...it all counts!

4. You don't have to post a review, but I'm sure others would love to know about the books you are reading and may even want to add it to their reading lists.

Have fun!
This is another one that I'm not going to list books ahead of time. The reason for this is simple, I have a ton of cozies I want to read and several that I plan to use for other challenges. Therefore I have a feeling that even if I did create a list of books to read I would end up reading others first and complete the challenge sooner. In fact, I'm going all out and considering myself a Super Sleuth with plans to read 13 or more. That means I'll keep the challenge open till December 2011 even if I do hit 13 cozies before then. The fun will be to see how many I actually do read in one year.