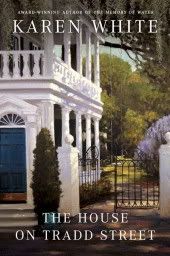 #1 Tradd Street
Copyright: 2008
Publisher: Harley House Books
Genre: Mystery
Pages: 329
Challenges: TBR
Author's
Website
My rating: 3.5/5
The House on Tradd Street is about how Melanie Middleton finally comes to terms with the fact that she can see ghosts and that even though she says she doesn't like historic homes, she really does. The story starts off with Melanie meeting Nevil Vanderhorst. Vanderhorst is the last in the Vanderhorst family. Melanie believes he wants to sell her house but Nevil doesn't want to. He wants to meet Melanie and figure out if she is a worthy candidate. He believes she is, when she admits that she can see his Mom's ghost and hear the swing in the garden. Within days after meeting Nevil, Melanie finds out that he has passed away and she has inherited his house. There are a couple of stipulations though, she must live in the house for a year before she can sell it and she must start renovations to it since it's falling apart. Luckily he also left her all his money.
Soon after she inherits the house, which she only agrees to so she can sell if after 1 year, she meets two interesting men. The first is Jack Trenholm. He tells her that he wants to right a story about the disappearance of Nevil's Mother when he was eight. The story has always seemed fishy and he believes he can figure out what happened to her if he has access to the house. Melanie agrees to let him do his research if he also helps with the renovation. The second is Marc Lango. Marc's ancestor is rumored to have ran away with Nevil's Mom and Marc is interested in purchasing the home. When he can't, he pursue's Melanie under the pretense of searching for a historical home to invest in.
Soon strange things are happening to the house. While Louisa and Nevil Vanderhorst are attached to the property and show themselves to Melanie, there is also an evil spirit lurking in the upstairs bedroom. This spirit seems to want to do harm to Melanie.
Melanie refuses to admit to anybody that she can see spirits, even though strange things are happening to the house. She has been able to see spirits since she was a child but due to a bad experience she denies it.
It also seems that Jack and Marc both have ulterior motives when it comes to the house and Melanie. Are they interested in her, the house, or the diamonds that the Vanderhorst family is rumored to have from the Civil War era and that might be hidden in the house.
When the book first starts Melanie isn't a very likeable character. Or at least that's how it was for me. I actually had a hard time getting into this book because of her. She seems very cold. Sure, we learn that she had a rough childhood and that can explain some of it, but still..she was a bit too cold for me. This made me to first be a bit disappointed in the book because I had heard such great things about it and had been looking forward to reading it almost all year (saved it because I had plans to buddy read it with some friends this month). I also couldn't understand why she had such a hatred for the historic homes and why she couldn't appreciate the house she inherited.
I was intrigued about the ghosts and the mystery of what happened to Louisa Vanderhorst from the beginning though. This is what kept me reading the book, and I'm really glad that I did. Melanie finally grew on me and I ended up liking her. The ghosts and the mystery surrounding the diamonds and Louisa was fun/interesting. I have to admit that I did figure out many of the clues and had guessed as to what happened with Louisa, but the story was still good.
I like how the book ended, I ended up liking Melanie too. There is 2nd in this series and I'm actually looking forward to it. Overall I do recommend this book, the mystery was enough to keep me interested and the main character did grow on me.
One last note..I also think the writing itself kinda held me back from liking this book more. Several times I had to re-read sentences to try and make sense of it. This is a major pet peeve of mine and disappointed me. However, like I said, I'm still planning on reading the 2nd in the series. I'm too intrigued by the ghost aspect and what the mystery might be (I haven't read a summary on the book nor do I plan to).
This book is part of my collection and was either bought or given to me.