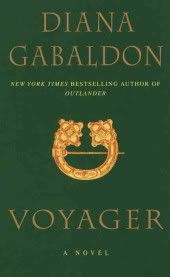 #3 Outlander series
Copyright: 2007 (audio version)
Publisher: Recorder Books (audio version)
Genre: Fiction
Pages: 36 disks - audio
Author's
Website
(But I wouldn't waste your time visiting it, to sum it up: it sucks, the only book info is on the latest, there isn't even a list of the books in the series)
My rating: 4.5/5
Simple Description taken from Amazon: (I am NOT an affiliate)
Diana Gabaldon's magnificent historical saga, begun with
Outlander
and
Dragonfly in Amber
, continues with this
New York Times
best seller. Set in the intriguing Scotland of 200 years ago, the third installment in the romantic adventures of Jamie and Claire is as compelling as the first. Now that Claire knows Jamie survived the slaughter at Culloden, she is faced with the most difficult decision of her life. She aches to travel back through time again to find the love of her life, but, in order to do that, she must leave their daughter behind. It has been 20 years since she and Jamie were forced to separate. Can she risk everything, maybe even her life, on a gamble that their love has withstood the long, rigorous test of time?
I copied that description from Amazon because I honestly didn't want to give you too much info regarding this book. I thought that description does a pretty good job of setting up the story for you.
The thing is, if you have not read this series yet you really do need to start with Outlander or you are going to miss so much and it's not going to make much sense. If you have already started this series and liked it, chances are you either already know what happens or you don't want to to know since you haven't read the book yet.
Now what you really want to know....my thoughts:
I loved Outlander, couldn't listen to it fast enough. I was bored to tears with the first half of Dragonfly in Amber and almost gave up on it, but once I was half-way through it I ended up liking it enough to plan on listening to the third book, Voyager.
Voyager, I'm very happy to report, kept me as interested as Outlander did. I felt that the story moved fairly well. Sometimes I felt like it could move faster and that the author was just meandering, yet at the same time I was enjoying the story so it didn't actually bother me. I'm definitely happy that I decided to continue with the series even though Dragonfly in Amber was a bit of a disappointment. I loved listening to more about Jamie and Claire. Those two sure know how to get into trouble! It seems like just when you think they are out of trouble and can get into some kind of peaceful routine, bam!, something else happens that threatens their lives and has them running from (or to) something else.
I'm planning to continue with this story and will probably request the audio version of book 4 from the library in a couple of months.
Two funny things I thought I would mention. First, at one point while listening to the audio version of this book I updated my facebook status with "What IS it about Jamie Fraser that has women AND men lusting after him?" I'm happy to report that several friends knew exactly who I was talking about. I liked that one friend who didn't realize I read this series commented "I didn't know you read Outlander!". I found it funny that even though I didn't mention Claire's name, several knew exactly who (and what) I was talking about.
Second, at some point while listening to this book I started to contemplate on how we live such different lives than those 200 years ago. Mostly, I contemplated exactly what Jamie would think of the fact that I get up and run 4 miles several days a week before heading to work and on the weekends I run up to 10 miles. How crazy he must think I (and other runners) are. Why would be willingly do this? My how times have changed.
This checked audio book out from my local library. I thought it sucked that I could only have it for 2 weeks, yet the audio book was 36 disks long. No way I could get through that in two weeks. The librarian who checked me out kindly told me I could keep it an additional 6 days without getting fined. In order to help finish this book as soon as I could so the fines wouldn't be huge, I started to bring the disks into work with me and would listen to them in the morning. I have, what I refer to as my mourning routine, that I do every day. Since I do it so often, I found that I was able to listen to the audio book and pay attention to it, while still doing my work. This worked out great! I actually loved listening to it while doing my work and now that I'm finished with it, I find that I miss listening to an audio book in the morning. I might start doing this with most of my audio books now. I also listened to it while working on some crafts and found that I loved this as well, a lot more than watching tv or a movie.
Davina Porter is the narrator for this audio book. She narrated the first two in the series as well and I sure hope she narrators all of them. She does an excellent job bringing the characters to live and changing her voice. I highly recommend these books on audio.