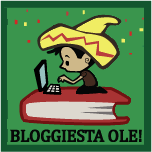 This was my first year participating in Bloggiesta and I really enjoyed it. I checked out
Maw Books Blog
(who hosted) and read several of the mini challenges from this year and those past. This actually caused me to make some changes I hadn't planned on. It was great to see so many suggestions.
I didn't get everything changed that I wanted to, but that's ok. I'm still planning to work on it within the next several weeks so I can get things as I want them. I updated my original
Bloggiesta
post yesterday, listing the different things I had accomplished so far.
If you missed that post, here's what I listed:
1) I added legal babble to my sidebar - letting you know that if a book was received for a hopeful review, it will say so in the review itself, otherwise the books are either my own or borrowed.
2) I posted my rating system on my sidebar
3) I started, but haven't finished, my challenges 2011 page.
4) I updated my pages
5) Created a review policy
6) Read a bit about favicons and gravatars and created both
7) Labels - this is one that really needed some help and I wasn't sure what I was going to do. I knew I needed to clean them up though. I spent a lot of time working on this. I deleted labels that weren't good and haven't been used since 2009. I renamed the challenge labels for 2011 to show the date 2011. I updated my label cloud to only show those I felt necessary (such as not showing the ones for 2010 challenges). I'm happy with it so far, still think I have a lot of labels, but it's much better than it was.
The only other thing I actually completed that I could add as #8 was that I created a signature. I've been wanting to do that for a long time but couldn't with my last template.
As for future things I plan to do. I'm hoping to get several future posts written still, I want to better organize my review books/list, and I still need to actually update my personal blog. That's right, I didn't do any of this for my personal blog, I ran out of time. I wanted to focus more on this blog because it's been around much longer and I have more followers.
If you participated in Bloggiesta, I hope you had a great time and was able to get a lot accomplished.